New 1950 Day invites community to make 'collective impact' by giving $50K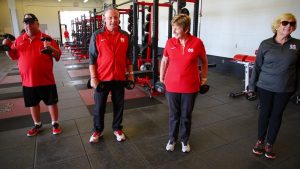 This Friday, Mater Dei will be holding its first "1950 Day," a day during which students, parents, grandparents, lifetime parents, alumni, faculty and staff are invited to donate any amount to the school within 24 hours. If the school is able to raise $50,000, an anonymous donor will match the price, bringing the total contribution to the school to $100,000. All of the proceeds will be allocated toward need-based financial aid.
"Fifty-five percent of our students are on financial aid," said Allison Bergeron, director of estate and alumni giving. "We're nothing without our students and we want to keep Mater Dei diverse, inclusive and welcoming, and that's what it's all about."
1950 Day is named after the year of the school's establishment and will be a new addition to the annual Homecoming traditions. Although individuals can begin donating this Thursday, 1950 Day will play a role in this week's Wednesday, Thursday and Friday Homecoming activities.
"We always talk about how long the school has been here and it's evolved, but even as it has evolved we have always been rooted in the mission, philosophies, and traditions of our school," Bergeron said. "Through 1950 Day, we are taking it back old school and celebrating our founding year. We are also acknowledging the value of each and every student, and the culture that has grown from this school and this institution."
Pulling out her calculator, Kathleen Kelly, director of alumni relations and giving, estimated that if each student on campus were to donate $1.95, they would raise $4,200 just from the student body alone. Although it may not seem like much, Bergeron said, this is close to four months of school tuition. If every student were to donate $19.50, they would be able to raise $43,000.

"A lot of people think 'I don't have a lot of money, so I can't give.' But what we really want to inspire in our community is the understanding of collective impact," Bergeron said. "We want to teach our students while they're here of this culture of giving back and paying it forward."

On Thursday in Shamrock Plaza, students will have the opportunity to donate any amount in cash during both lunches. Other individuals will be able to donate on Friday, 1950 Day, on the school's designated donation page online.
The class with the most donations will receive spirit dress on Oct. 16, as well as a donut celebration during office hour that day.
Behind the scenes, the Advancement team, which is made up of MD alumna Bergeron, Kelly, and Whitney Pavlik, coordinator of estate and alumni giving, have been planning 1950 Day over the past year. The project first came about after the team invited the community to donate on the national Giving Tuesday, which follows Cyber Monday. Kelly had always talked about the school having its own giving day, however, the initiative did not take off until the Advancement team attended a conference this past summer at the University of Notre Dame. At the conference, about 30 other schools from across the country with their high school advancement directors discussed giving days and how they created and executed them.

Bergeron explained that 1842 Day at her college alma mater Villanova University also served as a model for 1950 Day.
"My college alma mater Villanova launched their giving day two years ago, called 1842 Day…" Bergeron said. "They had a million-dollar challenge grant and really wanted a wide level of participation from undergraduates, graduates, faculty, staff and alumni, so we were pretty inspired by that."

Kelly hopes that 1950 Day will become a new school tradition.
"I don't think current students realize how many alumni, past parents, current parents and people in the community give back to create their everyday Mater Dei experience," she said.
For more information, visit materdei.org/1950day.
Homecoming 1950 Day events:
Wednesday

: 1950 Day student commercial will air on Monarch Television

Thursday:

Throwback Thursday; the school community is invited to participate in "vintage MD dress" (old sweaters, letterman jackets, sweaters, old uniforms, etc.) or 1950s dress (poodle skirts, jeans, black leather jackets, saddle shoes). During both lunches, there will be a 1950s dress costume contest judged by alumni from over the years.

Friday

: 1950s music will play throughout the day; the ASB team will meet with 1959 alumnus Bob Webber