Girls volleyball team leads with domination on the court, moves toward CIF finals
Ranking No. 1 in the state and no. 2 in the country, the girls volleyball team currently has an astounding overall record of 35-2, according to MaxPreps. Riding a six-game winning streak, they hope to continue this impressive form into the up incoming weeks of CIF finals.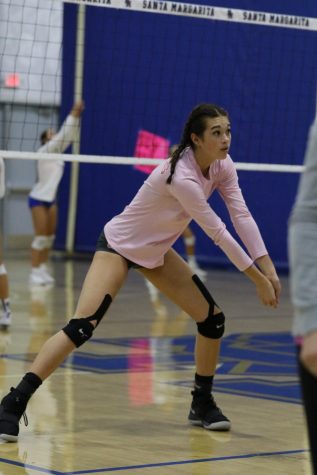 Coach Dan O'Dell has been coaching at Mater Dei for almost five years and he has won two CIF Southern Section finals. Last year, the team made it all the way to the State Finals, but fell short after a valiant effort versus Archbishop Mitty.
"If we don't make the playoffs, I'll give everybody in the world 1 million dollars," O'Dell joked. "I think so far it has been going very well, we have a lot of returning kids so there is a lot of continuity amongst the players and it carried over from the success they had last year, so far. Hopefully we can maintain and rep rest that success and hopefully strive to finish the year on a win."
Aiming to win the State Finals for the first time ever, the team is on a historic run. The Lady Monarchs are captained this year by senior Natalie Berty and junior Mia Tuaniga both who are committed to continue their volleyball careers at the collegiate level. "I will be playing volley ball at Stanford," Berty said.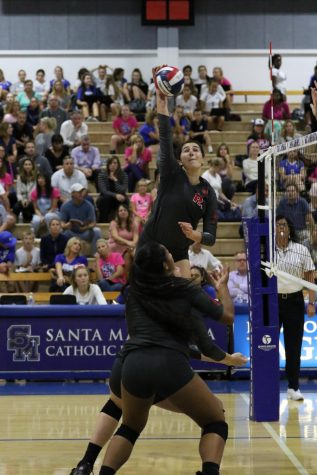 "I always look forward to CIF Finals." Berty said "I've had really fun experience in the CIF Finals so I think its really exciting. It's kind of an expectation that we make it there every year." 
The team have the experience, player depth, and coaching, which should be enough to defend their title as the best team in Southern California ranking at No. 1, and one of the best in the country, ranking at number two. Against all opponents, Mater Dei is a team that breaks down defenses with their powerful spikes and graceful passing. The has not one, not two but five players with more than 100 kills on the season, which is almost double than any team in the Trinity League. Leading the way is Berty who not only has 408 kills, according to MaxPreps, but accumulated enough to hit 1,000 kills. On the other side of the ball, offenses are limited by effective blocking and efforts from players such, as senior Mandalay Renon, who refuses to let the ball drop.
The whole team is motivated, but for senior Kristina Pepek, this season means much more: For her, it's a time of preparation for the collegiate level.
"This is getting better to play for the Mater Dei team but it is also getting better to get ready for college because it is going to be a lot harder," she said.
Tomorrow the Monarchs will take on Great Oak High School from Temecula as they look to continue their streak. The match will take place in the Meruelo Athletic Center at 6 p.m.