New water polo coach joins Mater Dei coaching staff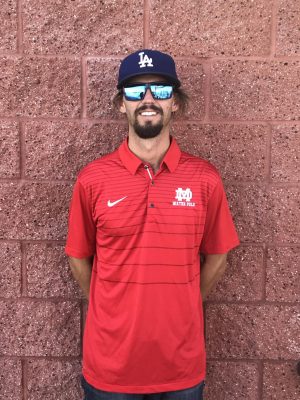 Brian Anderson is a player's coach: His goal is to help his athletes improve so that they work as a team, an experience that, he said, will help them for the rest of their lives.
Anderson, the new water polo coach, said he joined the Monarch community in order to implement this program, which is focused on assisting players as they achieve their athletic goals.
"To come to such a prestigious water polo school, to utilize my talents to help the student athletes to reach their full potential and the idea and family of Mater Dei high school is very appealing, as well how there is huge support network for the athletes but also athlete students with their ambitions and their goals," he said.
After several administrative changes in the water polo program, Anderson was offered to be the assistant coach in April after he was the interim coach for a small period of time. He then became head coach in September, about a week into boy's water polo season.
"Players need to focus on the 'process' and treat every opportunity for them to improve as a player, person, and team as if it has a life time and history of its own," Anderson said. "They need to embrace high expectations and never stop improving in life snd remain humble. My coaching philosophy is that we are getting these kids ready for the real world, in terms of overcoming hurdles and obstacles and going through tough moments that will build their integrity as a person and not just a player."
Anderson said he hopes to bring a Trinity League and a CIF title to Mater Dei. This past year they went 19-10, but lost in the playoffs to Santa Margarita. He said his style of coaching is strict but he believes this prepares his players to play at the collegiate level.
"I really like his style of coaching," said senior Maisie Mcpherson, a varsity girls' water polo player. "He sent out a handbook of all his expectations. He really set the bar back up to how Mater Dei water polo is and should always be."
Anderson hopes to help the water polo players achieve their goals and their full potential, something his players have already noticed.
"I think that Coach Brian is a good coach and I feel that he is bringing out team together and he has helped us a lot throughout this season," said senior Cameron Reagan, who is on the varsity boys' water polo team.
In fact, one of Anderson's main goals is to improve the chemistry within his teams.
"My favorite thing at Mater Dei is our practices. I feel like every time we have an opportunity to improve as a group, that is a unique experience and it has history of its own," he said. "As we take those small time frames and really focus on them on small increments of time, that, to me, is the most enjoyable part – where we are creating long lasting relationships through hard work and dedication with one another and creating a bond."