Stressed seniors, take a deep breath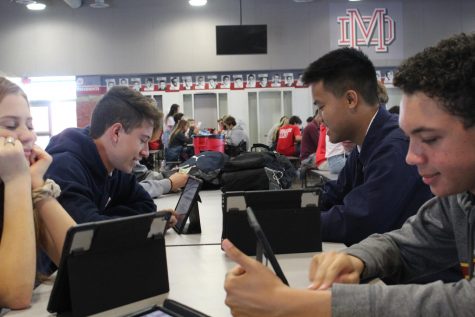 For most, October is a time when the leaves change colors and Friday Night Lights rule the weekends. But for seniors, it is primarily a time for completing college applications, visiting universities and making decisions that will shape their futures. Seniors already undergo serious stress when balancing their academics, sports and  extracurriculars with applications. Senior year is undoubtedly more intimidating compared to previous high school years.
"The college application process has been stressful due to my choice of major," said senior Emily Maahs, who is a varsity track runner. "I have many supplemental essays to write and finding time completely focus on my applications has been difficult. It is extremely hard to come home and work on such important applications when I must also manage my time with sports, homework, and wellness."
It is common for students to get caught up with the stress of their activities that they forget to set aside time for themselves, which could affect their performance in class. The school's guidance counselors advise students to only take on what they can handle.
"The way I see it, join something only if you know you are physically and mentally capable of giving 100 percent … quality over quantity," Director of Counseling Kellie Bauer said. "Normally after the first day of school, we have seniors changing their schedules, usually from the more advanced courses."
Despite the expected stress, some seniors have been looking forward to this last year in high school. Along with the new experience of applying to college, seniors said they look forward to leading their student section at games, becoming closer to friends they've gotten to know the past four years, and leaving their legacy for future students who will choose the same path as them.
"The college application process has been time consuming and laborious," said senior Lauryn Lilly, who is involved in more than five clubs at Mater Dei and a number of AP classes. "Despite the stress, I have also enjoyed it, because it really has allowed me to express myself through my writing and put my future into my hands."
Don't fret, stressed out seniors. There are definitely days where I feel like quitting, but I understand that my work and efforts will pay off. If you haven't started your college application, you still have time. What is most important is to remember to be proactive and understand the thoughtfulness that apps require. Just take it day by day.
"I would tell seniors to really focus on themselves and their path, and to ensure time to relax and still enjoy themselves senior year," Lilly said.