Dance director refreshes program, focuses on psychology, physiology
Since being hired as the new dance program director in 2016, Kristina Marquez has refreshed the program by creating a new culture that emphasizes creative expression and dance science.
Marquez manages both the dance and all-male hip-hop teams and also teaches Dance I, II and III, which are performing arts electives offered to all students. She grew up dancing throughout Orange County and is a graduate of the Commercial Dance Conservatory at OCSA. She was also a member of UC Santa Barbara's nationally-ranked collegiate dance team, which was featured on ESPN; she also performed professionally for Disney and various freelance projects. After an injury cut her career short, she earned her master's degree is dance science from Trinity Laban Conservatoire of Music and Dance in London.
In her elective classes, Marquez emphasizes dance education that incorporates foundational knowledge such as injury prevention, professional development, dance psychology, body conditioning, student choreography, and dance history. The competitive dance teams' courses build on this background by emphasizing creative collaboration, technical mastery and artistic expression, Marquez said.
For example, the dance team begins their year-round season with training sessions over the summer that highlight the psychological aspects of dance training and personal wellbeing as a whole. There, they discuss in-depth the role of body image, perfectionism, the impact of social media, performance anxiety, self-esteem, stress and dance-specific nutrition.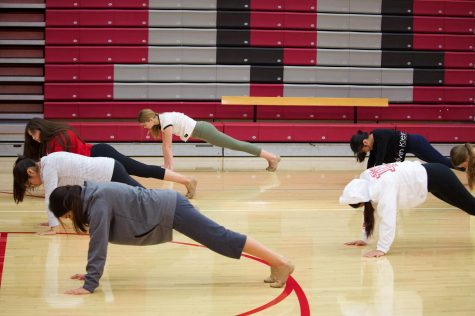 "I believe that healthy minds create healthy bodies that can more easily endure the athletic demands, social commitments, academic, and artistic events that team members must balance throughout the year," Marquez said. "Often, teenagers tend to focus on their self-perceived flaws, but when they can see themselves how God created them and the endless movement possibilities they are capable of achieving, the negative thinking eventually becomes obsolete."
Marquez's changes to the dance program have already led to success.
At the beginning of the school year, the Gala De Danza organization invited the dance team and All-Male to be the first high school dance program to partake in the Gala De Danza event in Los Cabos, Mexico, in April of 2019. "Since the summer of 2013, Gala de Danza has brought together artists from around the world to help enrich the lives of young dancers and the community," according to their website. The team will work with underprivileged youth from a local dance studio and also perform during the gala with internationally renowned professional dance companies at the Viceroy Hotel.
"It's an honor for us to go to the gala," said junior Jeremy De La Torre, a dancer on All-Male Hip-Hop."Throughout all the years of dance, everyone has worked hard to get an invitation like this. When we arrive there, we are going to take all of our energy onto the dance floor showing Mexico what were made of."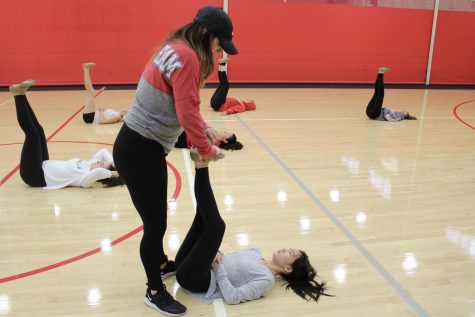 Marquez also started the school's first-ever chapter of the National Honor Society for Dance Arts this year through the National Dance Education Organization, which honors committed student-artists with scholarship and award opportunities. There are currently 74 Mater Dei members in the chapter. The dancers are from all levels of skill and showcase their efforts at the Spring Dance Concert at the end of each school year.
In addition, last year, the dance team won 15 awards from national competitions and All-Male earned four accolades.
"We always strive to be better than we were yesterday and do not let our titles or awards define us," Marquez said. "We aim to do everything with excellence and create art that has a deeper meaning and message behind it."
For the students, this success comes from teamwork.
"[Marquez] often tells us that since we are all different dancers, we will have different strengths," junior and dance team member Aurora Farrell said. "But with all our different strengths, we are stronger together than we are as soloists."
In light of the dance program's accomplishments, Marquez has plans to further improve the dance program by creating a two-track curriculum system for students: "a commercial dance route, where students can develop skills to be professional dancers for NBA and NFL teams, music videos, and back up dancers [and a] … concert dance route, which would emphasize contemporary dance, partner work, and choreography, ideal for students that want to study dance in college and beyond," she said.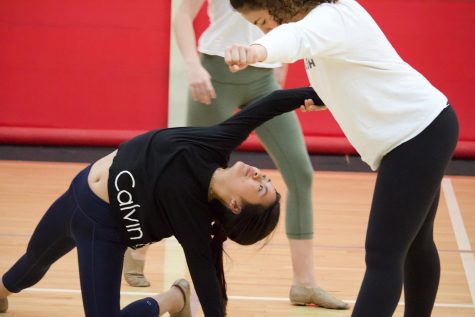 Marquez said that she also hopes to implement new classes geared toward all of the school's student-athletes that focuses on movement mechanics such as balance, coordination, flexibility, performance anxiety and mental skills training, among other concepts, as well as a dance wellness course that focuses on yoga, nutrition, mindfulness, body image, positive psychology, and meditation.
"Dance incorporates so much of the mind-body connection that athletes can benefit from," Marquez said.
In fact, Marquez takes the mental health of her dancers and students extremely seriously.
"There is a very positive environment on the team," said sophomore Ava Christensen, a dance team member. "My coach cares a lot about our mental health and is always giving us motivation during practice. There is also barely any negative competition between people on the team. We care a lot about each other and, every day before practice, one of the girls always asks everyone, 'How are you?' It may seem like a small gesture but it shows a lot about our team."
View Comments (2)
Donate to The Scarlet Scroll
Your donation will support the Student Publications Department at Mater Dei High School. Your contribution will allow us to keep our equipment up to date and cover our annual website hosting costs.