Students seek ways to alleviate stress during finals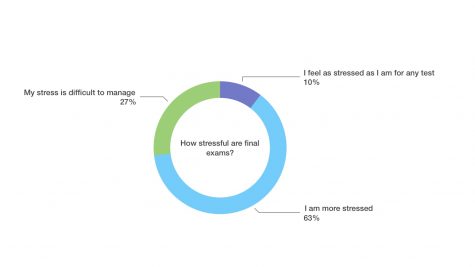 It's that time of year again. But sadly, that's not a reference to the holiday season.
With finals just a few weeks away, stress and anxiety are common feelings shared by most students. In a poll of 68 students, 96 percent said that their stress levels are higher than usual when finals roll around, with 27 percent of students feeling like their stress is difficult to manage. The majority of students, 57 percent, said that they only get about four to six hours of sleep a night during finals week.
However, even when it may seem bleak, there are a multitude of coping mechanisms and strategies that students can utilize in order to make it through exams unscathed.
Prior to a test, there are many ways for students to remain relaxed so that they can do their best. In addition to deep breathing and counting to 10, Kathleen Montemagni, the executive director of learning services, recommends "…visualizing a place or a time when you were really happy and calm."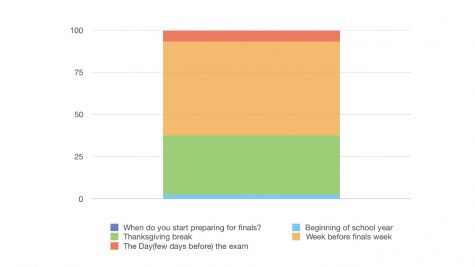 "You can visualize that right before an exam if you start feeling anxious and that will usually help calm you down," said Montemagni, who has a three degrees, including a doctorate, in clinical psychology.
Montemagni also recommends praying and reducing the brightness of room lights.
There are also strategies students can use right now in order to reduce future stress and prevent feeling overwhelmed.
"I like to read for a few minutes in between study sessions so that I am not distracting myself with something mindless, like my phone, but actively thinking and still taking my mind away from finals for a little while," sophomore Alyssa Johnson said in the survey.
Managing your nutrition may also help some people remain relaxed in order to perform to their best ability during their finals.
"Eating healthy always lowers my stress; I get plenty of water before studying," freshman Ignacio De La Torre said in the survey.
In the survey, junior Dario Rimicci said he similarly utilizes this healthy method by eating fruit and taking naps.
Looking ahead to next semester, there are ways to reduce stress before spring final exams. By starting to study earlier and maintaining adequate grades through the entirety of the semester, students will likely feel less stressed once finals roll around.
In order to better manage time throughout the semester and do well, many different tools can be used other than Canvas.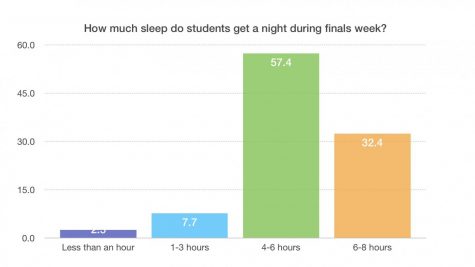 "In addition to Canvas … I find that having a to-do list daily is really helpful," Montemagni said. "So when you get home, you can open up Canvas and then kind of prioritize your assignments."
She also recommended completing the easiest tasks first, so students do not deplete all of their energy on the more difficult assignments.
Students can also begin managing stress as early as the class selection process, which happens in March every year.
"When we're talking about students finding balance not only in their lives but in their schedule as well, that's where I think consciously you really have to make a decision on your schedule and the types of classes your taking," said Kelly Troisi, one of the school counselors. "Yes you want to challenge yourself, but not at the cost of your overall health and wellbeing and I find that students have a tendency to bite off more than they can chew."