Chuckles 4 Charity raises money for charity, new thespian scholarship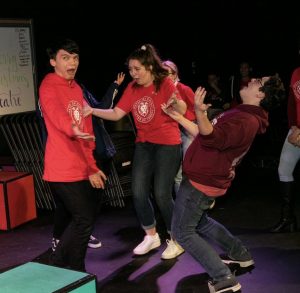 The Improv Club will host their second "Chuckles 4 Charity" of the school year on Feb. 12.
Held several times a year, Chuckles 4 Charity is an hour-long comedy show featuring student's humorous artistry with all proceeds benefitting non-profit organizations.
"All the money we get from [Chuckles 4 Charity is sent] off to a local charity," Improv Club Vice President Carson Alanes said. "The past few years we've chosen a couple clubs on campus to donate to."
For instance, Break the Silence Club has partnered with Improv Club since 2016. In the clubs' first partnership, the clubs raised more than $700 which went toward products such clothes, food and other personal items to The Lighthouse by the Orangewood Foundation, a transitional home in Orange County dedicated to human trafficking survivors.
"It was an incredible experience being able to collaborate with the improv team in order to create collective impact, raise awareness, help charity, but most importantly, create an enjoyable experience," Break the Silence Club President Cecilia Lopez said.
This year, new Director of Theatre Lissa Slay plans on donating all proceeds to a foundation that aids theatre children. With the money raised from the both shows, Slay hopes to establish a scholarship aiding theatre students across the country who seek to pursue a career in theatre.
"It will take us all school year to raise the money," Slay said. "A portion of each Chuckles show goes towards the scholarship, in addition to club events like [the theatre program's annual] haunted house [from which] 100 percent of the proceeds go towards the scholarship."
Slay plans on initiating this scholarship through the help of a non-profit organization called, Educational Theatre Association (EdTA). According to their website, EdTA is a program that helps "every student have access to theatre, taught by qualified educators as vital part of a well-rounded education."
"The students I have spoken to think it's a wonderful idea and they are excited to be a part of it," Slay said. "I think this is a fantastic way for our MDHS Theatre students to create a lasting impact and legacy."
To prepare for this year's Chuckles 4 Charity shows, performers are working with two new theatre instructors, Joey Busch and Josh Nicols. Students go through a number of rehearsals by working with both coaches. They focus on their acting, improvisational techniques, and energy on stage. The week before the show, the students pick out a theme for the show and which member is going to be in charge of what game. The theme for next month's show is Valentine's Day.
According to junior Fiona Mulholland, many theatre students feel personally close to EdTA scholarship because they hope to help other peers with similar endeavors around the nation.
"I just try to have fun I don't really think about myself," Alanes said. "I like how I can just be funny and know it helps someone."