A Week of Appreciation: An Overview of Catholic Schools Week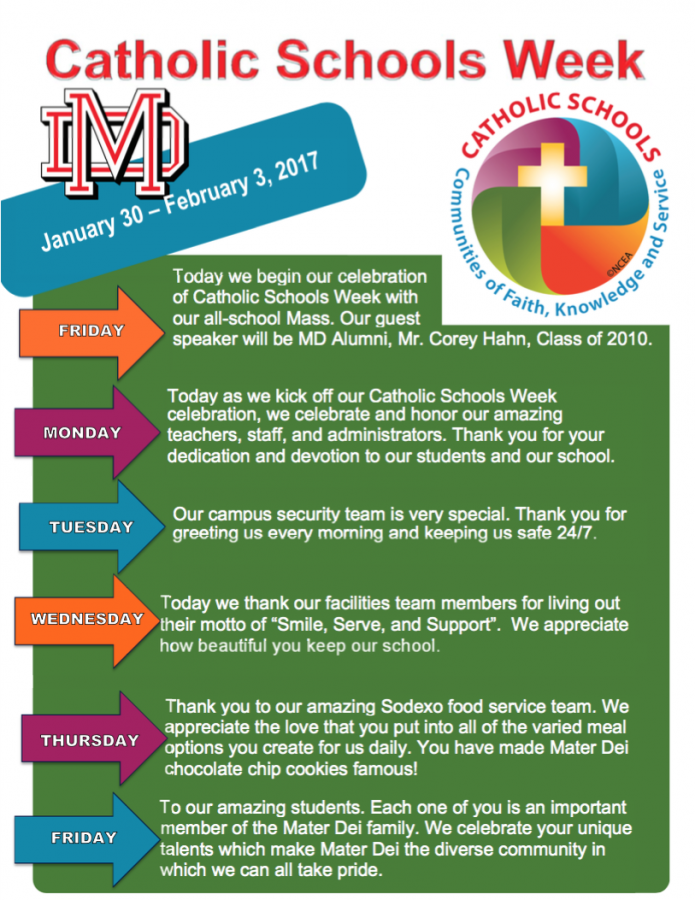 Catholic Schools Week began on Friday, Jan. 27; it is a time to honor the Mater Dei community for all they do here at school. This is week is filled with celebrations including mass, an ice cream bar and spirit dress for both students and faculty.
 ⠀⠀⠀⠀
Monday, everyone will celebrate the hard-working teachers, staff and administrators of Mater Dei. The staff will be rewarded with special free dress day. Tuesday, the security team  is honored for keeping everyone safe and  for the daily smiles you see every morning in the parking lot.
Wednesday the facilities team is the focus of the festivities for all the work they do to keep Mater Dei's campus looking great. Thursday we are celebrating all of the work the Sodexo team does by service us delicious food. On Friday, we will be celebrating our fellow students here at Mater Dei with spirit dress and an ice cream bar.
 ⠀⠀⠀⠀
This Friday, we kicked off the celebration of Catholic Schools Week by holding an all-school mass, with a guest speaker, Corey Hahn, Class of 2010. He spoke about his struggle with adjusting his life to accommodate his injury.
 ⠀⠀⠀⠀
"My injury was not life ending, but life changing," Hahn said.
Diana Neudstadt, the Director of Student Activities, also said to thank the maintenance staff, Sodexo staff, along with the teachers and staff every chance you get. This week brightens the mood of Mater Dei and is a great opportunity to show kindness and appreciation to others.⠀
⠀⠀
"Students should get involved to celebrate who we are and to make Mater Dei the best place possible," said Neustadt.
 ⠀⠀⠀⠀