Three candidates campaign for ASB president
Tomorrow, freshmen, sophomores and juniors will vote for their 2018-2019 ASB officers. Juniors Zariah Nogales, Nick Van Dalsem and Kelsey West are running for the position of ASB president. In addition, Peyton Smith is running for vice president, Cade Schobel is running for secretary, and Joey Pang is running for treasurer.

The ballot for all positions will open at 8:45 a.m. and close at 3 p.m.
ZARIAH NOGALES
Zariah Nogales said that she believes that everyone should push themselves to be better than the person they were yesterday. Nogales believes she is best fit for office because is able to sympathize with peers due to her overcoming through many hardships in her life.
"I h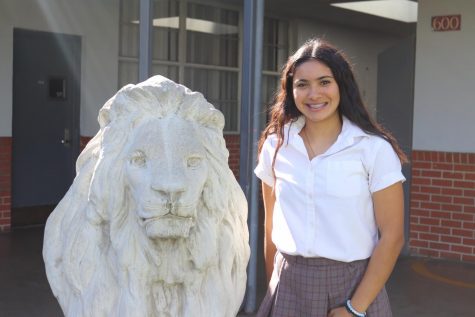 ave experienced terrible challenges such as knee surgery making me out for a whole year in the sport that I love doing, soccer and I've also experience great moments in my life," Nogales said. "I just know the moments people face."
In choosing to run for president, Nogales found inspiration in herself.
"I'm an outgoing person, and I feel for office you need someone that is energetic and outgoing, but also focuses on making the school better and that's what I try to do," she said.
Nogales believes that the person who should fulfill the office of president should be energetic and outgoing which is how she describes herself. A goal she would have if he was elected to office is "making everyone feel that they are part of a team here at Mater Dei."
At school, Nogales is involved with softball, Campus Ministry and ASB. Outside of school, she is involved with club soccers and is a member of a parish focal group called Edge in which she and other parishioners get together every Sunday to talk about ways to grow in their faith.
For Nogales, leadership means being a role model.
"I want to become President because leadership is an instinct for me and I have rules that I stand by," she said. "[I feel that] other people would have an understanding [of these rules] and I want them to be able to strive to be good … after high school."

NICHOLAS VAN DALSEM
Nick Van Dalsem said he is a person who believes that everyone should be committed to their goals.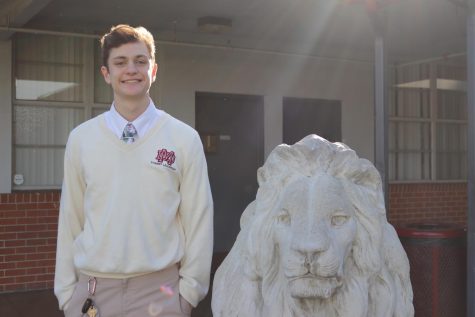 Just as he is committed to serving in his role as current junior class president, Van Dalsem said he has many tasks to follow through and is determined to continue projects he was unable to accomplish this year as next year's ASB President. 
"…as the junior class president, I felt like I helped a lot of people," Van Dalsem said. "[But] I feel like I still have a lot of ideas that I want to get started on."
Van Dalsem said he hopes to not only finish these tasks but to also make changes in the school. One of Van Dalsem's ideas is to continue Random Acts of Kindness, which are typically reserved for the Christmas season, during the entire school year. The Random Acts of Kindness project challenges students to do something thoughtful and kind toward each other. He and a classmate brought the concept to campus.

He hopes that this idea, along with "his creative abilities [to] come with new ideas and new ways to unite the school" makes him stand out as the best candidate for president.
He also believes that Monarch character should be exemplified by being involved in campus. Van Dalsem demonstrates this by being involved in theatre, choir, Improv Club and Campus Ministry. Outside of school, Van Dalsem has an interest in singing, playing fantasy football and "being a Pokémon nerd."
If elected, Van Dalsem hopes to help the Mater Dei community – which he calls "one big family" – by encouraging students of different aspects of campus life to become friends.
"I really want just everyone to get to know each other and to be the kid who united the school," Van Dalsem said.
Van Dalsem also hopes to lead as president because he will get the opportunity to continue working with his fellow junior class officers, who will be running for ASB officer positions as well.
"[Cade, Joey and Payton] inspired me to run so that I can continue to work with them because they are such great people and they work so hard that if I get to work another year with them that would be a true blessing," he said.
KELSEY WEST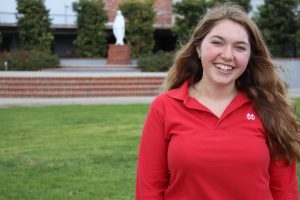 Kelsey West said that, ever since freshman year, she has wondered about how it would feel to be ASB President.
"I really care about Mater Dei and I really care about other people and I think that is something that makes a good leader," West said. "I was like, 'I could do this job well.'"

For West, being a leader at Mater Dei is demonstrating strong Monarch character. West believes that just because one is a leader does not mean that person is superior over their student body. West believes that everyone needs to be treated with kindness because everyone is going through a struggle everyday.
"Treat everyone with kindness," West said. "Everyone you meet has fought, is fighting, or will fight a hard battle so it's just understanding that and being patient with everyone." 

She thinks that the Mater Dei community truly promotes this spirit of kindness and generosity, and, as president, she hopes to lead by "treating others with love and respect and understanding." 

"I want to leave being a message of love … because it can be really hard to find that these days sometimes with all the craziness that goes on in our world," West said. "I just want to be an example of light and love and … that, if you're like a nice person … it doesn't mean that you're weak; you can still do great things."
West is an active member in the Mater Dei community. She takes rigorous courses such as AP Biology and is a member of the choral department who serves as Vice President of the Concert Choir. In addition, West is part of many campus clubs such as Campus Ministry, NHS, and Renaissance Club. She gets involved in campus activities because she loves being with people and getting to meet new people everyday.

"I like to figure out who they are and why they are the way that they are. I just really like people and even though I am kind of shy and stepping out of my box can be a little bit scary at times, and it's important because I really want to get to know people," said West. "I want to help make a difference in the Mater Dei community and in people's lives."