April Monarchs of the Month: Caroline Menzia and Tommy Brown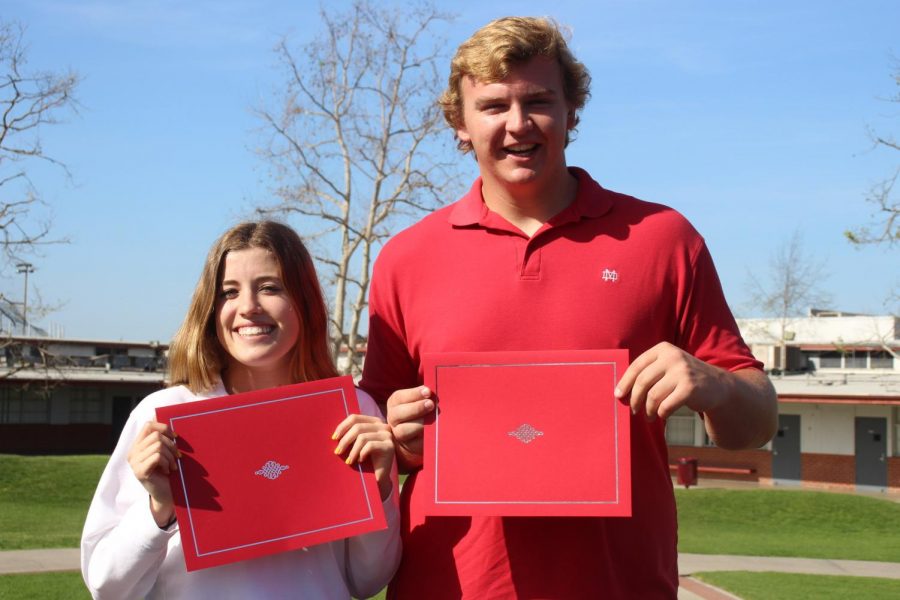 Seniors Caroline Menzia and Tommy Brown were chosen as the April Monarchs of the Month. Every month, faculty and staff nominate a senior boy and girl for Monarch of the Month, a tradition that recognizes students' Monarch character as well as their accomplishments during their time at Mater Dei.
ASB officer chosen for her display of Monarch character
Caroline Menzia has been an officer for the class of 2018 since their freshmen year.
"I feel honored and I feel very happy. I just feel honored first of all, I'm thankful that they have noticed my hard work." said Menzia
Aside from ASB, Menzia is a leader in Special Games, in choir, and in several AP classes.
"I balance my schedule because I had to do a lot of college apps, ASB, cross country, and the other involvements I'm in," she said.
Menzia said she believes that being a leader at Mater Dei is a great responsibility.
"A leader at Mater Dei means to me just taking a step towards doing the right thing even for example just standing up for someone who can't on their own," she said
Top football player chosen for his dedication
Tommy Brown is known around Mater Dei for his football talent, but what some people don't know about him are the personal goals he set for himself.
"One of my goals was to win a state championship and I did that in football," he said. "[I want to] see how far I'll go in track. One of my big goals is to beat my dad. My dad holds the shot put record here at Mater Dei so this is the 40th year so I'm trying to beat that record too."
Brown's plans for his senior year have been accelerated by his acceptance into the University of Alabama to play football. However, in addition to making advances in his athletic career, Brown is also involved in other aspects of campus in order to be well-rounded.
"I [also] love ceramics and I'm in the Star Wars Club, which is another passion of mine because Star Wars is amazing," he said.
Along with all of his involvements, Tommy Brown works to represent Mary, Mater Dei in all of his endeavors
"I just love the school and I love to represent Mater Dei, so I try to do my best at everything and represent Mary," Brown said.