Anaheim Packing House offers a variety of flavors to OC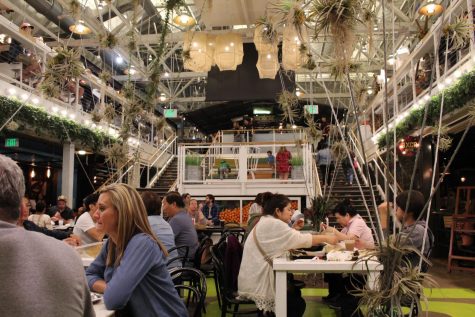 Built at the edge of downtown Anaheim and along the Southern Pacific rail line in 1919, the Sunkist Packing House was a hub of commerce for Orange County. Local farmers arrived to unload trucks of freshly picked oranges at the Packing House to begin the process of washing, grading and eventually packing into wooden crates. Once completed, the oranges would be loaded onto trains parked on the side of the building to be shipped across the nation. The Packing House is just one of the few remaining fruit packing houses in Orange County, for which the county is named after.
Today, the two-level Packing House has been converted into a food hall where a variety of different restaurants are located with creative spaces for people to eat and dine out. It contains a large central surrounded by cafes and restaurants of varying sizes and cultures as well as a few outdoor picnic areas and a building-length dining porch looking out to the outdoor marketplace, Farmers' Park. Live music, game nights, and yoga in the park offer an atmosphere that makes the Packing House more of a community center for the city of Anaheim.
Greg Alvaro, 45, is a frequent visitor at the Packing House and enjoys spending his time experiencing what the Packing House has to offer.
"I like the fact that there's a wide variety of different kinds of foods that you can get from different places, it's not all the same kinds of food it's many different varieties" Alvaro said.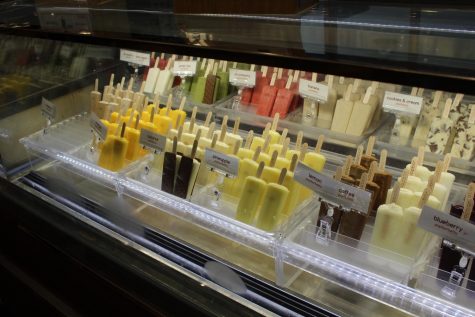 The assistant manager at the Black Sheep Grilled Cheese Bar, Miguel Rodriguez, enjoys his work environment and the ways that the different restaurants and stores can connect with each other.
"I love the environment and I also love the barter system," Rodriguez said. "We tend to trade pretty often with everyone around and it's pretty awesome I mean getting free food and such. But yeah the environment here is super good."
Rodriguez as well as other employees believe that the Packing House is a one of a kind place where you can't get food like it anywhere else.
"I think it's one of those kind of places where you get to see new things and explore a lot of new things about cuisine especially since you have a lot of things here that are different," Rodriguez said. "Like Indian food paired up with Mexican food downstairs or like something simple like grilled cheeses but at the same time still pretty fancy like fancy grilled cheeses."
Students at the school also visit the Packing House and find it to be a unique and trendy place to order great food and spend time with friends.
"My favorite place at the Packing House is the Pop Bar because you can custom order unique and yummy popsicles," freshman Lily Kunde said. "My friends and I like to go there because we enjoy the food, and take pictures at all the unique photo opportunities it provides."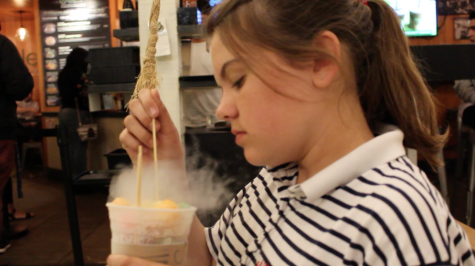 Junior Corbin Utley recently visited the Packing House for the first time and was impressed by the creativeness and efficiency of the Packing House as a whole.
"I could tell how hard all the different restaurants worked to make their food the best it could possibly be and it really showed when I got my food and it tasted delicious," Utley Said. "I also noticed how the employees would visit each other on breaks and it showed me how they all had a strong bond with each other, even if they weren't working at the same restaurant."
The Packing House stays true to its original roots as a fruit packing house, but at the same time is unique on its own and offers a unique flavor to Orange County that can't be found anywhere else.
"I think if you're interested in food, different cultures, and enjoying meals with your friends and groups of people then you should definitely come here," Alvaro said.