New Options program diversifies community by welcoming students with intellectual disabilities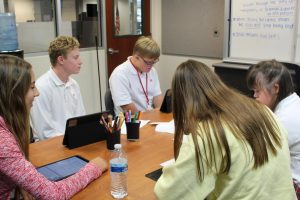 Students with intellectual disabilities, such as Down Syndrome, are now able to join the Mater Dei student community as part of the new "Options" program this year.
The Options program focuses on helping these students succeed in high school and prepare them for college. Two students with intellectual disabilities, Lauren Heald and Charlie McGee, both freshmen, are the first students to be admitted to the school through the program.
Heald and McGee are taking college prep classes as well as multiple electives. Heald is involved in theater, art and dance and McGee is in wrestling, theater and choir. Denise Senzig, the coordinator of Options and special testing, said that the plan for the students is to follow the curriculum they've created and to apply to colleges that have similar programs like Options.
"They want to go to college and there are a lot of four-year colleges for students with intellectual disabilities, so I looked to see what the colleges were requiring and we developed the curriculum around that to have them college ready when they leave," Senzig said.
Senzig runs the new Options program with the helps of seniors who have been selected to help mentor the students in their everyday student lives.
Heald and McGee said that the school experience so far has been exciting, new and interesting.
"I like all my classes. I don't have a favorite one," McGee said. "I like the friends that I have made."
Heald also enjoys her extracurriculars like theater and dance.
"My favorite class is theater because I love drama," Heald said.
Senior Emily Maahs, Heald's block 6 mentor, believes that being selfless and putting Lauren's and Charlie's needs before her own are key components for the job.
"To be part of Options you need an open mind, positive attitude, and true desire to be a part of the program," Maahs said. "Our job is to help Lauren and Charlie become the best versions of themselves and it is our responsibility to guide them in the best way possible. Responsible, outgoing, and loving students would be great for the program."
One of Heald's block 8 mentors, senior Sophia Chiaramonte, chose to be a peer mentor because she wanted to give back to the school and experience being a peer mentor.
"Being able to be with Lauren and Charlie is such a blessing and I can't wait to see what they will accomplish in high school and in their futures," Chiaramonte said.
The Options program began when administration was notified that there were two students in the incoming freshman class who had older siblings at the school and who were interested in attending the same school that their siblings did. Knowing these students had intellectual disabilities, the school wanted to accommodate to them, Senzig said. Senzig, as well as other members of the faculty, researched and determined that the best way to accommodate to these students is through a peer mentor program.
"There are about 20 Catholic schools in the US that do this and research has shown that this is the best way to accommodate students," Senzig said. "Instead of having them with an adult aid or put them off by themselves in a special classroom, being with the entire community is the best way for them to learn."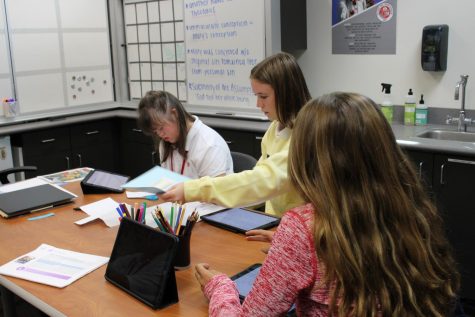 The school plans on welcoming two new freshman students into Options every year and in order to do this, they need current juniors to consider if they would like to take this path at the school and be a student mentor. Toward the end of the school year, Senzig will put on a presentation in juniors' religion classes. After the presentation, interested students can apply to be a mentor.
"…the community benefits greatly from [having these students in our community] and that's our Catholic calling: to be inclusive," Senzig said.