December Monarchs of the Month: Natalie Berty and Nicolas Lopez
Seniors Natalie Berty and Nick Lopez were chosen by faculty as December's Monarch of the Month. This award is given to two seniors, one boy and one girl, each month and recognizes their accomplishments as Mater Dei students.
BERTY SETS HERSELF UP FOR SUCCESS
Natalie Berty is one of the captains of the girls' volleyball team and is also a Monarch beach volleyball player. In addition to being an athlete and Gatorade Player of the Year, Berty takes four AP classes and is involved with both NHS and CSF. Berty also committed this year to Stanford University for volleyball.
"Monarch character means leading in service and leading with integrity and just being a good person," Berty said.
According to Berty, her ultimate goal is to create great relationships. While she has grown and maintained relationships inside of school, she has been able to create some through her volunteer work. Betty has volunteered at the Blind Learning Center since she was freshmen and enjoys working with the kids.
"I get involved because you create such great relationships with people in your school when you get involved in different activities," Berty said.
From starting to play volleyball at age 10 to making it onto the varsity team her freshman year, Berty has made her way to holding the captain position for her senior year. According to Berty, being a captain has taught her how to lead by example and always keep the teams best interest in mind. This year her team achieved the great accomplishment of winning both CIF and State this school year.
"This year winning CIF and State was so special because it was our third CIF title in four years and we got to get revenge for last year and win State, which has also never been done before by Mater Dei volleyball," Berty said.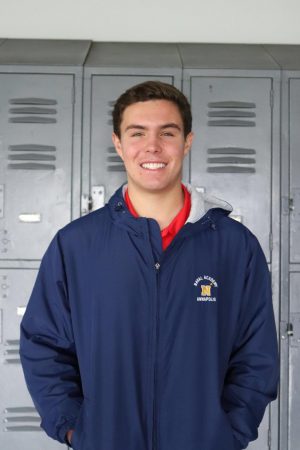 LOPEZ KICKS OFF HIS COLLEGE CAREER
Football team kicker, Nicolas Lopez plans on finishing his senior year strong and making the most of his last semester. According to Lopez, his academic schedule contributes to his goals of getting into a prestigious university once he graduates Mater Dei and moving onto a higher level of education. On Jan. 30, Lopez announced on his Instagram that he committed to University of California, Berkley for football.
"I chose Berkeley because I wanted attend a college with high level football and academics and Cal fulfills this," Lopez said.  "Also, it's close to home so my family can come see and I always dreamed of playing in the PAC 12."
He looks forward to playing against his Mater Dei teammates in the future and attributes a part of his success to them along with his family and coaches. His favorite memory from this year was when the football team defeated the St. John Bosco Braves on Nov. 28.
"We went against the odds and recovered from the first loss and Bosco and did what people didn't think we could do," Lopez said. "…we came together and went back to back and it was something I will always remember."
In his free time, Lopez helps out the community by participating in beach clean ups. He also joins his teammates in Monarchs 4 Marines, an annual football event, that has a goal of providing support and encouragement to the Marines serving in Iraq and their families living on or near Camp Pendleton. According to the Mater Dei football website, the team establishes a direct personal bond with the 1st Marine Division and gives them, along with the rest of the community, a special opportunity to make a difference.
Lopez said that being a kicker has taught him that every person is part of a bigger picture and that success comes from the support you receive.
"Football season is my favorite thing about Mater Dei because I love being with my teammates all day because they are my brothers and I love competing and working to win," Lopez said. "The atmosphere at games is incomparable to anything else."
Leave a Comment
Donate to The Scarlet Scroll
Your donation will support the Student Publications Department at Mater Dei High School. Your contribution will allow us to keep our equipment up to date and cover our annual website hosting costs.