Student athletic trainers work behind the scenes, help athletes avoid and recover from injuries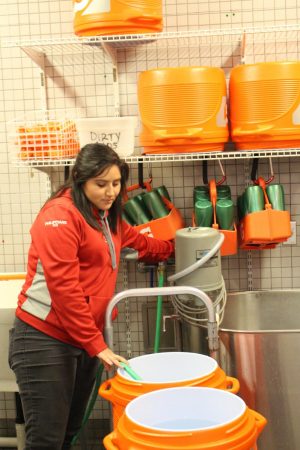 As athletes, parents and fans walk through the Hall of Champions located in the Meruelo Athletic Center, they are sure to notice the list of names on the walls and timeline of Mater Dei athletes. But few look past these gilded interiors with their history and investigate the many doors leading to locker rooms and offices.
For example, if you're walking toward the fields, at the end of the hall, one will pass the Prietto Family Sports Medicine Center. If you take a peek inside this room after school, you are sure to see students milling about completing various tasks. There may be lacrosse players filling water bottles for their practice or football players getting taped before a game. If you look a little longer, you will notice that students are the ones helping the athletes. These are the student athletic trainers, a small group of Mater Dei students who are able to work and train in the athletic training facilities alongside staff and athletes.
This year, three students are enrolled in the athletic training class: junior Maria Boyer, senior Elizabeth (Libby) McKindley, and senior Katherine (Katie) Flathom. They work alongside Athletic Trainer Mike Fernandez and Associate Athletic Trainer Christine Dahle in the sports medicine center.
McKindley first heard about the program because her mother, class of 1990, was a student trainer when she attended Mater Dei.
"My mom would always talk about how it was so crazy that she didn't know my dad in high school [but] that he was in some of the pictures from her trip to Australia with the basketball team [when she was an student trainer]," McKindley said in an email.
Going into her freshmen year, she approached the athletic trainers regarding this class and was permitted to join.
Boyer happened to learn about the opportunity while stopping to by to visit Flathom in the training office with one of her friends.

"…Katie gave us all the details about what they do and what athletic training is all about," Boyer said. "…I found it very interesting, that I just decided to apply."
All trainers are there to help rehabilitate and support injured athletes, according to an email from Flathom. They use exercises and modalities such as taping to help the athletes recover and prevent injuries. Student trainers are also there for emotional support, Flathom said.
"My favorite part is working with the athletes and helping them through their obstacles and watch them overcome them," Flathom said. "I also enjoy working with the sports and you become a part of the team too…"
Flathom also mentioned that the trainers are able to "build great friendships and memories" because of "the many hours working with the other girls [that are] a part of the program."
"My favorite part is learning how to help the athletes recover from their injuries and … meeting new people there," Boyer said. "I like the time I spend with the rest of the trainers."
The program also provides students a chance to learn more about the medical field, which is helpful, McKindley said, because she plans on majoring in athletic training; similarly, Boyer plans on studying neuroscience and Flathom hopes to go into physical therapy after studying kinesiology and athletic training in college.
"…[you get to] be a part of athletics without having to be on a team," McKindley said. "Even though it's a big time commitment, I actually love being here…"