Disney's new streaming service launches tomorrow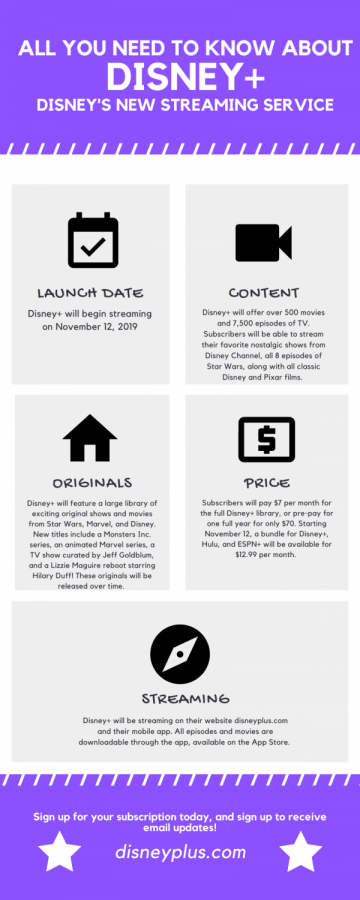 Disney fans have much to be excited for in these upcoming days with next week's launch of Disney+, a brand new streaming service featuring thousands of hours of Disney content.
Beginning tomorrow, Disney is opening their vault of movies and TV shows for the first time ever and offering never-before-seen access to Disney Channel originals, classic animated films, Pixar movies, and original content made exclusively for the service. Not only will Disney content be available on the site, but Star Wars, Marvel, and National Geographic are releasing existing and new content for Disney+.
"Disney+ is a really fun and easy way to watch some Disney classics as well as some new original shows as well," junior Joshua Weed said.
Today's generation of high schoolers and teenagers will be excited to learn that Disney+ will be offering a library of Disney Channel movies and TV shows, nostalgic content that defined the generation's childhoods.
"I'm really excited for Hannah Montana, Phineas and Ferb, Wizards of Waverly Place, Kim Possible, all the old shows," junior Rachel Dennin said.
Adding in this library of content brings a generation of fans into the streaming service that might not have been convinced by the classic animated movies alone. In addition, reboots of Disney Channel originals such as High School Musical and Lizzie Maguire will bring old characters to a new generation, as well as reminding original fans of their childhoods.
"Disney appeals to a multitude of demographics, young and old," said Allison Bergeron, who is the director of estate and alumni giving as well as the club moderator of the Disney Club. "I have a 10, five, and three year old… I want to introduce my kids to a whole other aspect of the Disney library that they haven't seen. I look at things with fresh eyes as an adult and parent, and they look at it with just pure excitement."
Rumors of a Disney-exclusive streaming service had been circulating the Disney community for years, and Disney+ was officially announced at the annual D23 Exposition on Aug. 23 with a trailer that compiled highlights from service's content.
The service will be centered around Disney's extensive library of content, spanning from their first animated feature in 1938, Snow White and the Seven Dwarves, to movies released in theaters this year. Approximately 7,000 episodes of TV and 500 films are expected to launch with the service on Nov. 12, according to a Twitter announcement from Disney. The company also released a three-hour YouTube video detailing all of the content available on the service. With this wide range, there is sure to be plenty of movies and shows that interest any demographic.
"If you love Disney, you'll know it will have things you like," Dennin said.
Fans should also be prepared for a flow of brand new Disney content made exclusively for the new site. Disney, Star Wars, National Geographic, and Marvel Studios have all created new TV series to come to Disney+. Marvel's list of new series is particularly eye-catching, bringing beloved characters back into the spotlight with their original actors. Characters getting their own brand new series include Loki (2021), the Scarlet Witch (2021), the Winter Soldier and Falcon (August 2020) as well as never-before-seen characters such as She-Hulk, Ms. Marvel, and The Eternals.
Star Wars fans will also be able to stream the collection of all their films, including the three trilogies and two spin-offs, along with two new series based on familiar characters.
"The thing I'm most excited for is to be able to have all the Star Wars Movies in my hands," senior Morgan Anderson said. "A new series I have been looking forward to is the newly announced Obi-Wan Kenobi series."
The Kenobi series will begin filming in 2020. Another new Star Wars series, The Mandalorian will follow a bounty hunter after the events of Return of the Jedi, will be available starting next week when Disney+ launches.
Disney's newest content is sure to attract a large amount of subscribers, however, many people are most drawn to the never-before-seen access to the library of classic films. Limited quantities of Disney films have been available on Netflix and Hulu, such as Pocahontas and Mulan, but many beloved childhood films have been kept in Disney's vault, only available for purchase on DVD. Fans wanting to acquire a collection of films are forced to pay for each individual movie, which becomes quite expensive. Offering their entire collection of films in a single place for only $7 per month offers convenience and affordability to Disney fans.
"It's very hard [to watch Disney movies] unless you buy a DVD…" Dennin said. "With Disney+, to have access to everything for only $7 is pretty worth it."
Disney's emergence into the streaming service market has raised questions about how it will affect its competitors. While some new subscribers agree that they will keep their subscriptions to at least one other streaming service, the novelty of Disney+ may bring traffic away from Netflix, at least during the first few months of the service. Not to mention, Disney also revealed they would be terminating their partnership with the streaming service Netflix at the end of 2019, and since that announcement Disney content has been disappearing from the site.
"I feel like [Disney+] will make my time on other streaming sites definitely less," Dennin said. "There's still going to be shows I want to watch on Netflix and Hulu, but I want to explore Disney+."
Those interested in Disney+ can visit disneyplus.com and sign up for a monthly or annual subscription.
"I think it's going to be exciting," Bergeron said. "I know that they have a commitment to quality, and it will be a quality product."