FAM Huddles allow athletes to inspire school community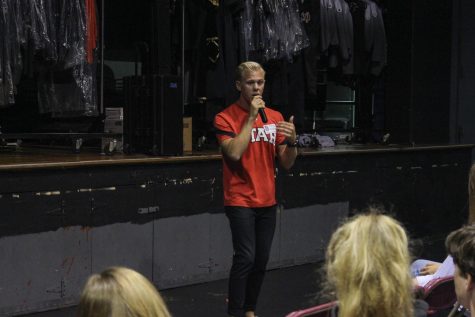 The next Fellowship of Athletic Monarchs (FAM) Huddle will take place tomorrow during office hour in the Monarch Pavilion. The speaker will be former collegiate soccer player and blogger Natalie Lawrence.
Huddles, which occur about once a month, invite students to listen to various speakers who competed at the collegiate or even further levels in sports, including athletes and coaches. Donuts are provided for all those who attend.
"The goal is to have current students, generally, but not limited to, student athletes, hear from young adults who have recently been in their same position," Director of Alumni Giving and Relations and FAM leader Kathleen Kelly said.
FAM works with Jared Hall of FCA, Fellowship of Christian Athletes, who contacts speakers, most of whom are Mater Dei alumni.
During the first huddle of the year in September, former University of Utah swimmer, Nolan Rogers was the guest speaker; he discussed the struggles that he faced when it came to training himself to become a collegiate athlete. The speaker at the October meeting was former USC football player Adam Goodman.
Everyone is welcome at the FAM huddles, not just athletes because the message at the meetings apply to all students.
"The message is always one of faith," Kelly said. "Be it overcoming obstacles with the help of faith or embracing the blessings God has bestowed upon them or any other personal faith journey. We want our students to hear that it is ok and even "cool" to have a personal relationship with Jesus and to be an additional place on campus that they can embrace their faith."