Açaí bowls: a fresh, healthy alternative to fast food
Açaí bowls have encountered a surge in popularity in recent years. Açaí places have recently sprung up on every corner and it's become harder to decipher which eatery is the best choice. Many have strong opinions on what is the best restaurant, which has the best açaí, and even what the best toppings are. For anyone searching for some good açaí, here is a list of some of the most popular places chosen by Mater Dei students.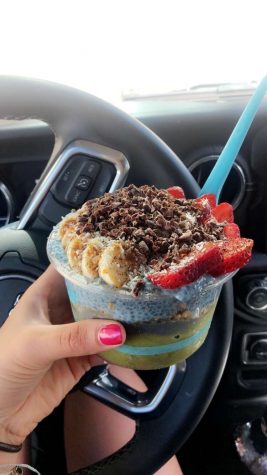 Blue Bowl
Known for: blue chia pudding, customizable bowls
Popular orders: açaí and coconut bases with blue chia pudding, hemp granola, almond butter, berries, goji berries, and honey.
First opening in Orange in 2016, Blue Bowl is one of the newer acai places. A U.S. military veteran-owned business, Blue Bowl has been one of the most talked about acai places since it first opened and has now expanded from its original Orange store to locations in Huntington Beach, Long Beach, and a brand new location down Bristol Street in Costa Mesa. Blue Bowl also differs from other places as it offers different types of bases like Pineapple Expression and its newest base Blue Coconut, allowing customers to customize their very own unique bowls.
"In my opinion, Blue Bowl açaí bowls are a refreshing and healthy snack. I could get one of their açaí bowls everyday. It's especially delicious when the weather is hot or after a long day at track practice… Having an açaí bowl tastes better than eating any kind of fast food," junior Emily Lynch said.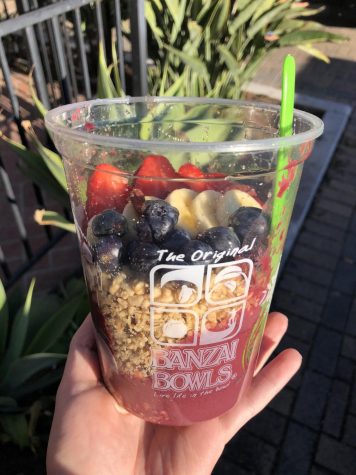 Banzai Bowls
Known for: beach locations, large sized bowls
Popular orders: Sharks Cove, Maui Sunrise, Off the Wall
Banzai Bowls, a Southern California staple, has garnered a serious following since it was first introduced in Costa Mesa back in 2008. Known for a set menu that proves to offer more than your money's worth, Banzai stays true to its original roots serving bowls that are freshly made the moment you step through the door. Because every bowl is made to order, customers may experience long waits, however, Banzai Bowls offers a phone ordering service where you can skip the line and pick up your bowl after placing your order on the phone. Banzai's açaí bowls are also known to be expensive, but their large servings of fresh fruit, granola, and other toppings leave customers satisfied.
"It's fresh, it's delicious, you can customize it, and the quantity is equal to the price," senior Tatiana Marocco said.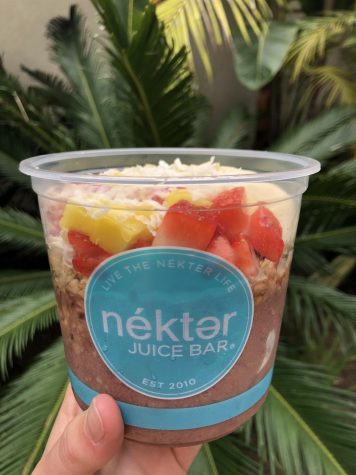 Nekter
Known for: detox juices, smoothies, bowls
Popular orders: acai banana berry bowl, peanut butter bowl
Nekter Juice Bar established in 2010 helped pave the way for detox driven diets and became a forefront of the juice cleanse revolution. Famous for cold pressed juices and ginger shots, Nektar has expanded their menu with the inclusion of acai bowls which are quickly becoming the favorites of many. Nekter has limited choices for bowls though, as they are more focused on juices and smoothies within their menu. However, where it lacks in variety of bowls, it makes up for in the quality, providing a fresh product every time.
"I just like how simple and consistent it is and how everything is very fresh and good," senior Matthew Oglesby said.