Coronavirus outbreak, school updates upcoming events
With the recent outbreak of the disease COVID-19, or more infamously known as the Coronavirus, students are beginning to feel its affects on campus as multiple events and long standing traditions are being cancelled or postponed. Schools in Orange County including Sage Hill School and JSerra   have already made the decision to cancel classes and are going online according to student sources. The school's administration is currently deciding whether or not to close, but in a statement released today from the principle's office it states that, "Should school need to close for any reason, we will have online education available for students."
In Ms. Clare's statement she announced that the majority of upcoming on-campus, as well as off-campus events will either be cancelled or postponed.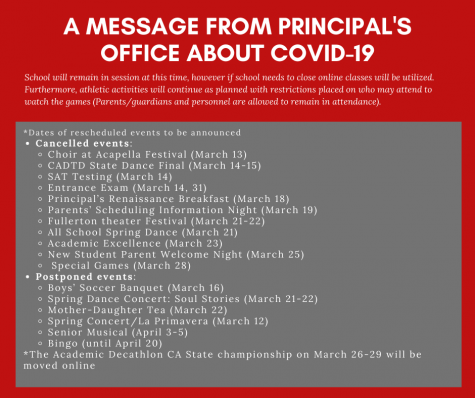 Spring sports are still planned to continue but with only coaches and parents in attendance.
Officials in Orange County have declared the Coronavirus outbreak as a local health emergency and is currently working to get more testing kits. Five people have tested positive in orange county according to the LA Times with two of the five cases being confirmed and three being "Presumptive", meaning they are awaiting confirmation from authorities.
Updated: Mar. 12, 2020 10:08PM
This is an active story and all cancellations/postponements are subject to change at any time. The Scarlet Scroll will continue to update this page as new information flows in.