Clubs adapt to new norm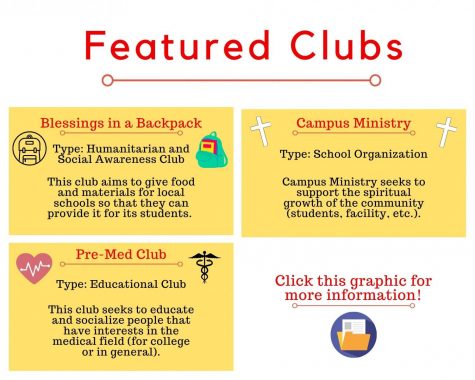 Clubs are back. With sign-ups starting Oct. 16, clubs are starting to gain momentum in order to make the school year engaging and fun for their club members despite the pandemic.
Jeanette Costa, the Associate Director of Student Activities, said that established clubs are up and ready to go and that new clubs can begin the application process at the start of the spring semester.
"[Existing clubs] have already started planning meetings and activities," Costa said. "Clubs are allowed to meet via Zoom or designated times in the tent area. Many of our clubs are planning outdoor activities and online activities, which will be open to the student body.
President of the Blessings in a Backpack Club, senior Ashlee Morales, said she is finding new ways to keep her club going this year by doing club activities over Zoom and keeping her members up to date by sending emails. This club aims to make sure local schools have food provided for each and every student and give to the community.
"To deliver a bag or box filled with food, you have to coordinate a time to pick it up at a central location and then drive the food to Washington Elementary School," Morales said. "Due to the pandemic, the supply of non-perishable food items runs out a lot quicker because we do not have as many people donating."
Senior Campus Ministry commissioner Kaitlyn Ambriz also has some new creative ideas for her group to adapt to the current situation.
"We have begun working on new outreaches that people can do while staying socially distanced," Ambriz said.
While the pandemic changed lots of things, the Campus Ministry Commission and club still want to make sure they are interacting with one another frequently.
"As the heart of the Mater Dei, we want to make Campus Ministry a safe place where we can rise above any situation while working together to help others," Ambriz said.
President of the Pre-Med Club, senior Talar Chadarevian, believes that her club will make sure to stay active in the spring semester despite the struggle the upcoming school year may bring. Though, like most clubs, the schedule is not set and is always changing to adapt to the new challenges and difficulties posed throughout this year.
"For Pre-Med Club, in particular, we are going to be very strict on the CDC guidelines and social distancing rules, although I hope all clubs will be," Chadarevian said.
In an effort to avoid overwhelming their club members with "the stress that comes with being a part of many clubs and the uncertainty of this year," Chadarevian said, her club's plan is to send out most of their information toward the end of the fall semester.
"The Pre-Med club has always been one of the largest and most active clubs on campus," Chadarevian said. "I believe our club will do just as well despite the pandemic because our members are passionate about medicine and are always eager to learn no matter the circumstance."
In order to keep the club active in the spring, Chadarevian looks to using other forms of communication – apart from in-person – which will allow for more events to happen. The roadblock of the pandemic may have stopped many possible club-related events from occurring, but Chadarevian seeks to find new ways to get around that.
"Once spring semester begins, the Pre-Med club will be doing meetings either all online, or we will have in-class meetings that members can reserve spots for, and those who don't get a spot can join on zoom," Chadarevian said. "The in-class meetings will have limited availability and will practice strict social distancing. We will be continuing our club through Ted Talks, virtual discussions, and guest speakers – most probably through Zoom."
As for second semester, Costa said she doesn't know yet if everything will be as it was last year, especially with club-related events.
"We will be holding a club fair at the beginning of the semester, but right now, we are not sure how it will look, as it will depend on the COVID restrictions," she said.
Interested in signing up for a club? Learn more about each club by clicking here and sign up by emailing the club leader directly.
Leave a Comment