Stay in the holiday spirit while staying safe
The severity of COVID-19 and the limited capacity in Southern California ICUs has forced those in the community to adapt their holiday plans. Recommendations from the Centers for Disease Control and Prevention (CDC) are being immersed into holiday plans in order to protect everyone's health.
CDC recommendations suggest staying home with your household and refrain from traveling and visiting others outside of your family unit. Taking the necessary precautions will not only keep yourself and your family safe, but all those around you. Despite the restrictions, students and staff are finding ways to stay in the holiday spirit.
"I definitely want to stay in the holiday spirit this year with everything going on, immersing yourself in something consistent and joyful can allow hope to enter our lives even if it is difficult," junior Samantha Baltazar said.
Baltazar said she is using this time to get closer with family members and spend quality time with them. Not having to go to school or work is allowing her family to come together with "undivided attention." Baltazar and her family have even created a new tradition to celebrate the holidays — making new dishes and trying them on Christmas night.
"Spending the holidays and the season during this time is sort of sad because we can't really do all the fun activities we usually do, but it does allow us to slow down our minds and bodies and challenge us to find new creative ways to celebrate and we can maybe continue or integrate it into our holiday celebration in the future," Baltazar said.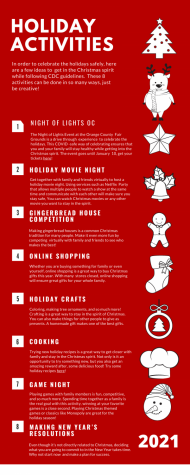 One of the many Christmas traditions that is not able to happen this year include performances of The Nutcracker and other holiday shows. Senior Joseph Rosol usually attends a showing of The Nutcracker with his family every year around Christmas. However, the performance has been cancelled due to the pandemic.
"A lot of people may think it's weird but whenever I watch a [Christmas] show I put myself in the setting such as The Nutcracker or Christmas concerts,"Rosol said. "That is what I will truly miss."
Rosol, the creator of "Swag to the Future" on EveryDei, has been spreading Christmas cheer by creating themed videos on his YouTube channel. Rosol has created Christmas segments every year since he began his channel in 2016 in order to spread the holiday spirit. This year, Rosol has made it even more of a mission to involve Christmas with his videos.
"I enjoy the fact that everyone gets into the Christmas spirit and because of this I try to spread the cheer via my YouTube videos," Rosol said.
Christmas plans have also changed a lot for staff and teachers at Mater Dei. Religious Studies Teacher Alec Sixta usually attends Christmas at his uncle's house, but is not able to attend this year. Instead, Sixta is spending the holidays with his two cats, Norah and Tofu. He is disappointed about this change in tradition but acknowledges that it is a different year for everyone.
"While I dislike how the season is unfolding, I am extremely grateful. I have a home, my health, and the church. I have a lot to be happy about," Sixta said. "Most importantly, I have students, who help keep me sane."
An emphasis on staying in the holiday spirit is a big part of Sixta's plans this year.
"Staying in the Christmas spirit is important because some people have forgotten the faith and hope that exists in the world. We need to be the light for others" Sixta said.
The holidays will look much different this year, but it can become an opportunity to find new ways to celebrate. Many have found new hobbies, such as baking or crafting, that make up the holiday season. With this pandemic, staying safe and staying healthy is most important right now.
"Even though we might be tired or have a lot of things going on in our lives toward the end of the year, it is important to acknowledge that many other people are feeling the same way too and to pause our troubles and worrying to come together and relive our stress by caring and being there for other people," Baltazar said.
View Comments(1)
Donate to The Scarlet Scroll
Your donation will support the Student Publications Department at Mater Dei High School. Your contribution will allow us to keep our equipment up to date and cover our annual website hosting costs.