Foreign exchange students in the cross-hairs of a pandemic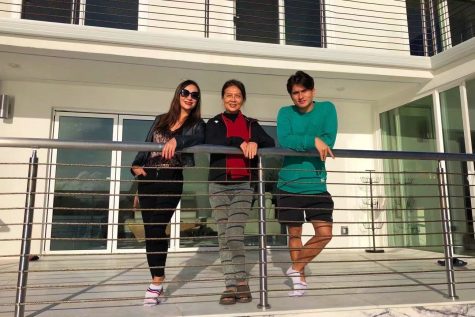 When COVID-19 first hit the U.S., international students had the choice of staying here or heading back to their home countries. Some students decided to head home and do online learning, while others decided to finish the rest of the school year out at MD.
"Mrs. Lawrence, who is the coordinator for the MD online program, sent out a survey asking if students want to come back [to school], or if they wanted to remain at MD online. There were some students that wanted to come back," International Student Director, Janet Lee said.
The next challenge the administration faced in the flurry of online schooling was how international students would access school assignments and homework. In some countries such as China, students can't access various programs necessary for school work, such as Google Docs or specific websites and web browsers. The firewall that certain countries have in place restricts access to websites that are vital to learning online. Administration brainstormed on how they would facilitate access.
"We were in crisis mode from March to June," Lee said. "Then, we did require everybody to get VPN to access all of the websites that we need here. Without VPN, they can't access Google and they can't access their emails. They can't access Canvas. You pretty much can't have school. Our teachers did a lot for the students that went back home."
International students had to notify their teachers about whether they were leaving the country or if they were staying. By doing this, teachers could create a schedule based on students' needs. A lot of communication went on between students and teachers, parents and administration, and administration and students.
"It was a lot of work for the teachers because a lot of the kids that returned home were mostly from China and Vietnam," Lee said. "There's a huge time difference. There were a lot of accommodations."
Since the start of the pandemic, some international students, such as Hunter Brady and Kornelia Matuszak, have not been able to return to their home countries. For approximately one year, they have been separated from their families due to travel restrictions. These students have had to find ways to remind themselves of home and keep a positive outlook.
Travel restrictions, flight cancellations, and legal government policies all played a huge role in the struggle of students heading back to their home countries. By the time COVID-19 came to the United States, other countries had already started getting a handle on the pandemic. Parents wanted their children to return home. Some students decided to finish out the school year and come home afterwards, but by that time, more travel restrictions were imposed. That was the case for Polish student and senior Kornelia Matuszak.
"We had a flight that was canceled and now the borders are closed, so I can't go back," Matuszak said. "It's just a little hard."
Matuszak hasn't seen her parents in 11 months. Currently, Matuszak is staying with her sponsor family, which happens to be her extended family. Before studying at Mater Dei, Kornelia used to visit her extended family for one month [a year] for the last 12 years. As a result of her prolonged stay in America, Kornelia and her cousin are best friends.
"My friends are pretty much my family," Matuszak said. "They're so important to me that it just feels so good, like being with them. It just feels like I don't have to worry about anything else."
One of Matuszak's new friends, which she met at school, speaks her primary language, Polish. Matuszak emphasizes how important and intimate her confidants and close groups have become. Likewise, senior Hunter Brady, a foreign exchange student from China, has also found strength in his friends whilst being separated from his family. Brady hasn't seen his mom or his grandmother since two Christmases ago.
"Not only [did I miss] my mom and my grandmother, but I grew up with a bunch of friends there that I really wanted to see," Brady said. "I couldn't see them but gradually I made more friends here which really helped a lot."
To remind Brady of home, he loves to find authentic Chinese food and to watch Chinese movies and reality shows. This makes for great conversation when he contacts his friends back in China. Brady contacts his mom every day and sends her pictures of fun activities he's doing. It keeps him positive and connected throughout this troubling time.
"I think just contacting them, like FaceTiming my mom and my grandmother as well as FaceTiming my friends that are in China," Brady said. "Just keeping in touch with them as much as I can."
Some things that are common in China are not the norm in the United States, such as traveling via subway. Brady has fond memories of he and his friends exploring the ins-and-outs of Shanghai.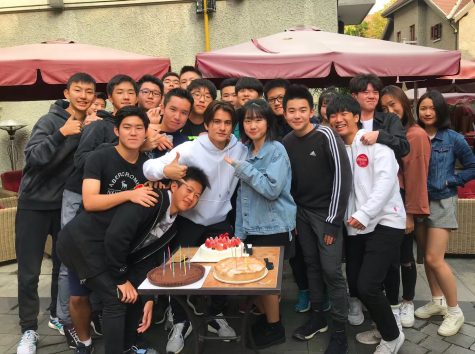 "Me and my friends love exploring the city, as Shanghai is such a vast and vibrant place to live," Brady said. "We would take the subway everywhere around the city, trying out restaurants, checking out markets, etc…."
Brady has also learned some of the commonalities in America that are different from that in his home country. For example, Brady has found out that a lot of Americans cook their own food when they need to bring some food to a family or friend gathering or party.
"I think making your own food is very fun and sharing it with friends is even more enjoyable," Brady said. "I would definitely want to bring this tradition back to China."
Despite their struggles, Brady and Matuszak have found ways to keep in touch with their families and make new friends. The commonalities these students share is how important their friendships have become and the role they play in their lives.
"I became closer with my friends, and especially when COVID hit, we weren't that close, and now we're super close," Mutuszak said. "I have a really good friend group right now. So, I became super close to them and Mater Dei became like a home."
Leave a Comment