Raesjon Davis finishes out his senior season at Mater Dei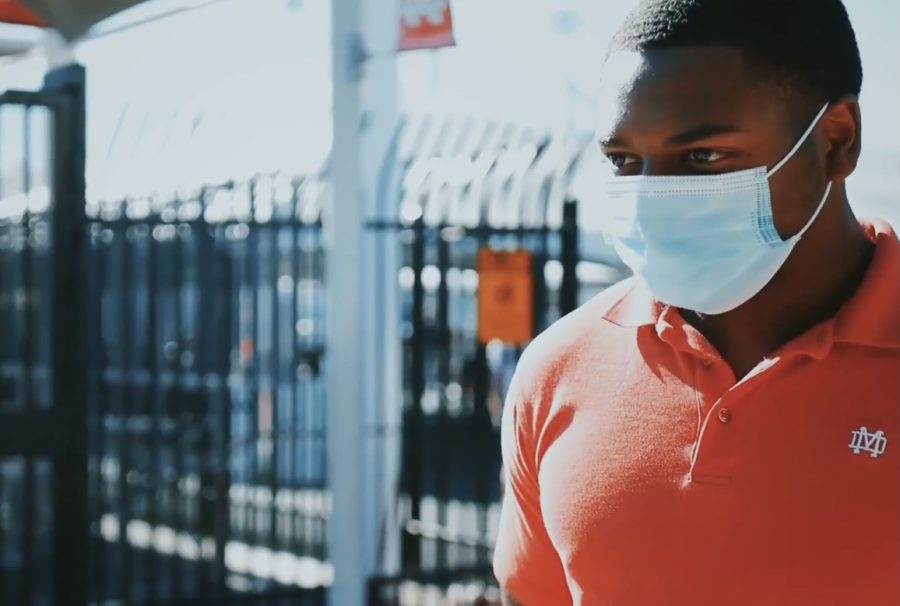 Varsity football player, senior Raesjon Davis is one of the top recruits, in the class of 2021, in the nation. According to 247 Sports, with over 20 offers, Davis is one of the most highly ranked offensive linebackers in the country. During his senior year, Davis also fulfilled a childhood dream by becoming a 2021 All American Bowl Invitee. Raesjon Davis is the 12th Monarch to Receive an Invitation to the All-American Bowl.
"Honestly, it was really a dream come true because I've always dreamed of playing in that game," Davis said. "I've grown up watching some of the older players do it and I just couldn't wait to get the invitation."
An invitation to the All-American Bowl is a major accomplishment for a high school football player. It features the top 100 seniors in the country and is played in the Alamodome in San Antonio, Texas. The game is also broadcast on NBC and according to NBC Sports, "the All-American Bowl is the most-watched and highest-attended high school sporting event."
Head football coach, Bruce Rollinson, shared Davis' excitement over the invitation and highlighted the honor of receiving an invitation to the prestigious event.
"That's the big game," Rollinson said. "I don't want to slight the others, but for most high school kid's that's the game that they dream about playing in. All you have to do is look at the alumni that have played in that game, not just Monarch alumni, but most of the top NFL guys played in that game, so I was extremely excited."
Davis has also had an exciting senior year in other ways. After committing to Louisiana State University in the middle of his junior year, Davis recently decommitted from LSU and flipped his commitment to the University of Southern California. According to Rivals, with Davis' commitment, USC now has the 8th ranked recruiting class for 2021.
Growing up in Southern California, USC is a school Davis has long admired. Playing football at Mater Dei, many of his former teammates and even his coach, Rollinson, chose USC as the next step for their football careers, so that program is far from unfamiliar to Davis.
"My USC offer [was the one I was most excited to receive] because that's always been a dream of mine since I was a kid," Davis said. "So that was pretty cool."
Rollinson also brought up the impact of going to a school close to home and playing with former teammates as a student-athlete. Davis will be joining former teammates Amon-Ra St.Brown, Bru McCoy, and Solomon Tuliaupupu this fall at USC.
"There's a lot to be said about staying home," Rollinson said. "And there's a lot to be said about playing with your former teammates. I'm happy for his family that he's right here in our backyard."
Despite getting to play with some former teammates again this fall, Davis missed out on the opportunity to finish out his senior season with some of his teammates who decided to forego their senior seasons and graduate early. Even though the chance of a senior season was unknown due to concerns surrounding COVID, it was important to Davis to finish out his senior year and season at Mater Dei.
"It was important because I love Coach Rollinson a lot and I just felt it was best for me to stay all 4 [years of high school] and finish it out and get another championship," Davis said.
Although Davis finished his sophomore year a CIF champion, the team fell short to St.John Bosco High School his junior year of high school.
"I think [losing to St.John Bosco his junior year] didn't sit well with him and I think he wanted to right that wrong and come back and take care of business and get himself another ring," Rollinson said.
Even though they were unsure that they would have a season this year, the football team has continued to practice and train over the past 12 months, since the end of the 2019-2020 football season.
According to Scorebook Live, "As of Tuesday [March 2] afternoon, all eight counties [in the CIF Southern Section] now meet the case rate threshold and have been cleared to start playing high school sports."
Now that it is official that the football team will play in 2021, all of that off-season work will get a chance to show.
"[During the offseason I've been focused on] really just getting better at everything I do and just trying to be a better teammate and a better leader," Davis said.
Deciding not to graduate early, Davis will get a chance to finish out his senior season at the school and play his final games in a Mater Dei jersey before graduating and starting his college football career this fall.
"He's gonna have some fun," Rollinson said. "And I really would be excited to see what he does because he has no pressure on him. He's got a scholarship to USC, but he will dominate."
As the school year comes to a close, the legacy left by Davis on the football program will remain long after he graduates this spring.
"Raesjon is the perfect example of how to do it in Mater Dei football," Rollinson said. "He started out as a true freshman in our program – played freshman football. We saw the talent, we saw the ability, and by his tenth grade year when he transitioned – now he's gonna play varsity football. But he grew into being a candidate for that level through hard work in the weight room. Raesjon is one of the highest character guy's that I have. He's a born leader and he trusted the process. He will be a boy that we will talk about in the future years. He will serve as an example to younger players coming up through the program and his personality and his character will be part of his legacy."
Leave a Comment
Donate to The Scarlet Scroll
Your donation will support the Student Publications Department at Mater Dei High School. Your contribution will allow us to keep our equipment up to date and cover our annual website hosting costs.