The Students of Sodexo: What it's like working in Mater Dei's kitchen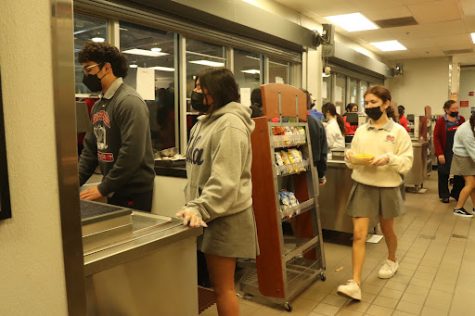 Sodexo, a company that provides food services for the school, gives students the opportunity to work in the kitchen and at the lunch line registers in exchange for prepaid lunches and service hours.
Senior Isabella Botero has worked with Sodexo for four years and recounts the initial difficulties she faced as a new member of the staff.
"I was very intimidated because sometimes I would [work during] an upper lunch when I was a freshman or a sophomore, and the people who work in Sodexo […] were already experts," Botero said. "I was kind of scared because sometimes the cashier would tell me to get a certain food, and I wouldn't know where it was. I would have to take longer [to get the food] and the upperclassmen would get mad at me."
Botero also recounts how difficult it was to work with and for teenagers. Sodexo helps prepare and provide food during both first and second lunch for all freshmen, sophomores, juniors, and seniors.
"Sometimes there are customers that will be disrespectful and it's really annoying when you're tired and you've been working," Botero said. "Then there's customers that are being rowdy because they're high schoolers."
After seeing many of her friends work during lunch, senior Anahi Benitez joined Sodexo for the 2021-2022 year. She joined this service program because of the benefits it offers.
"We get free food," Benitez said. "Also, [missing] twenty minutes of […] lunch is not that long. At first when you're working [it] feels like […] you're missing time with friends, but I found out it was the opposite. You can choose if you want to work the first half or second half. I like [how] it depends on your schedule."
Although Benitez worried that joining Sodexo would mean giving up time with her friends, she soon realized that what seemed like a negative was really a blessing.
"[Working with Sodexo] is honestly a good opportunity to get out of your comfort zone," Benitez said. "You're always […] experiencing new things. I never would have realized [working in the kitchen] would be this fun."
Senior Ruby Meija, like Benitez and Botero, has prior experience in working with Sodexo. Similar to other students who work during lunch, she chooses to sacrifice her time and energy because of the benefits the program offers.
"I find I'm always very conscious of […] my financial standing, and I know that [attending this school] comes with a great cost," Meija said. "I just […] have this feeling that it's not hurting me – it's really only benefiting me. When I work, I'm just doing my personal part and duty."
Ultimately working in the kitchen requires personal sacrifices from students, but the rewards and benefits from the experience make it worthwhile for many.
"In my senior year, I want to give it my all," Mejia said. "And while I want to be part of everything, [balancing different components of my life] is really hard. I personally have a lot of experiences where I've dropped things because it was too much stress, and it was devastating. But [in] the end [I know] I have given my all to everything I'm a part of because that's just who I am. I'm proud that I have decided to do this, and I'm so happy that I was able to grow so much with everyone at Sodexo."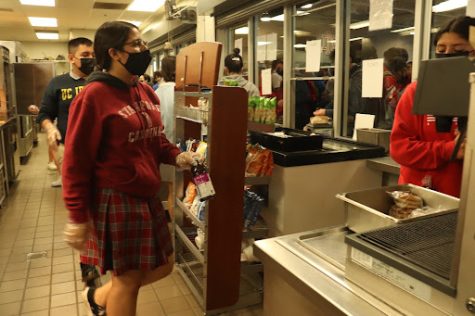 View Comments (4)