The Guide to Scholarships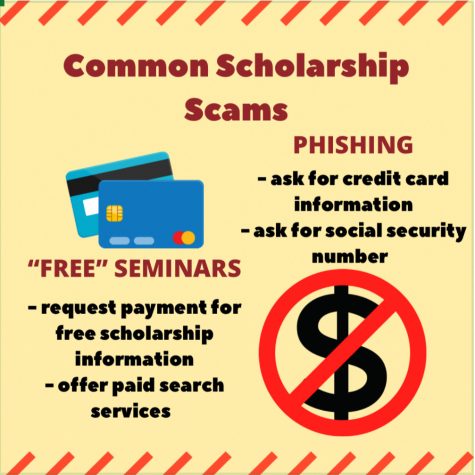 According to the Oxford Dictionary, scholarships are "a form of financial aid awarded to students to further education." Often, scholarships focus on specific subject areas students excel in. Such subjects include visual arts like painting or coloring, science, and even mathematics. For many students, the scholarship application process is daunting, but with academic figures like school and college counselors, the process is more straightforward.
Mrs. Mayra Martinez, the school counselor who oversees all sophomore, junior, and senior students with the last names Mc – Ra, offers advice on the process of scholarships for Mater Dei students.
"[Counselors] always advise, you want to fill out the FAFSA form, which opens October 1, that is an application process that you know, [it's] something that you the student and the parents have to [fill] out with information," Martinez said.
FAFSA (Free Application for Federal Student Aid) is a form used to help students who need financial support for college. Eligibility requires that you demonstrate financial need, are a U.S. citizen or eligible non-citizen, and are enrolled in a degree or certificate program at the college or university you will attend.
Other avenues to obtain scholarships are available through private organizations. An online search can help lead to a few. One reputable website is an educational platform called Niche. Niche aids students with simple, no-essay scholarships. These grants vary in amounts from 2,000 dollars up to 50,000 to help students cover an entire year of tuition. To apply, students sign up for a free account, then fill out some questions regarding GPA and course interests. After completing the application, students have to click submit. And just like that, students are in the raffle for these monetary grants.
Many scholarships are easily accessible online, but many scams supplant themselves within the many legitimate ones. Here are some common scams to look out for:
Phishing Websites: These websites are almost identical to real websites, but their purpose is to gain your information in order to steal your money. Many of these websites contain advertisements and fake applications that ask for your personal information, such as your Social Security or credit card numbers.
Fake checks, invitations, and fees: These kinds of scams can be scholarship email or letter invitations that require a processing fee, and scammers sending fake checks to students, which require you to send money for tax or other services.
Free seminars: These offer free access to meetings that instead of learning more about grants and scholarships, they instead offer promotion for paid scholarship search services—containing lists of scholarships to apply for, which you can easily find on your own for free.
STAY SAFE: There are several internet scams regarding scholarships. Such scams include "free" courses that initially cost nothing but demand payment later. Take a look above for more information on common scholarship scams!
Leave a Comment
Donate to The Scarlet Scroll
Your donation will support the Student Publications Department at Mater Dei High School. Your contribution will allow us to keep our equipment up to date and cover our annual website hosting costs.