Students find ways to personalize uniform, work to express themselves
With the beginning of a new school year, a new set of fashion trends are bound to be discovered. Students at Mater Dei have found different ways to personalize their uniform, with and without breaking the limited dress code.
Students seize the opportunity to use their hair, nails and jewelry to spice up the uniform. With these narrow options, students think outside the box to express themselves.
"It is important to express yourself through your uniform, because if nobody does, then everyone will look the same," freshman Brayden Harrision said.
Harrison has taken it upon himself to personalize his uniform, even though the male community has found it difficult with such limited options. Something that he has been doing, which has also been seen in previous years, are cuffed shorts and pants, even though it is not part of the dress code and students can receive an infraction for doing so.
"Cuffed pants to me are better than normal pants because it feels less like a uniform," Harrison said.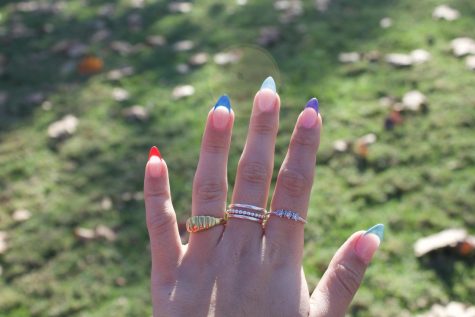 Sophomore Ava Navarro takes her personalization to a new level by getting her nails done on a regular basis. Since there is no dress code directly limiting how your nails can look, Navarro sees this as a gateway to expression.
"I really love getting my nails done," Navarro said. "I think that nails can truly be the way that I can express myself with such a strict dress code. With nails, you have an endless variety of things that you can get."
The Mater Dei dress code tends to limit students' abilities to explore their personal style. The uniform gives students a simple color palette to follow so it can be really difficult for them to find these ways to express themselves through the uniform.
"I think for someone that enjoys different colors, the uniform can really limit the color spectrum to what I can wear and not wear," Navarro said.
Navarro is always following what's trendy when it comes to nails, and uses that as her inspiration for her next nail set. Because of the limited colors in the uniform, she loves adding color through her nails, opting for bright colors and trendy designs to add some extra flair.
"I love to pick trendy designs that have a pop of color," Navarro said. "Recently, I have been enjoying the colorful french tip look. I think that they are super fun and still satisfy my craving for color."
Freshman Alice Eskander has found her way of expressing herself, after being on campus for a few months, by embracing her natural curls at school.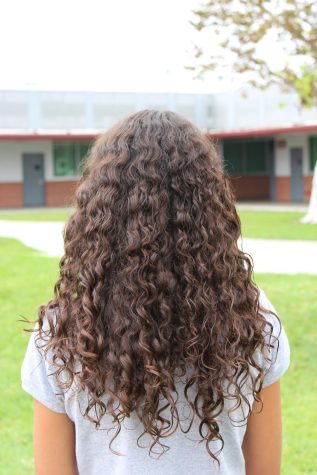 "There are a lot of things that you can do with your hair that can help you show and express yourself through the uniform," Eskander said. "I have been more natural and leaving my hair down most of the time. This helps me embrace and enhance the beauty in my curls."
A sentiment many students share, including Eskander, is that all genders and ages need to find ways to express themselves and can't let a uniform stop them from finding ways to personalize their style at school.
"With such a strict dress code that you have to abide by five days a week, I think that it is super important for people to find ways to express themselves with the little options that you have to do so," Eskander said. I express myself with my hair. I have finally found ways to embrace the natural state of it and leave the curls free."
Leave a Comment
Donate to The Scarlet Scroll
Your donation will support the Student Publications Department at Mater Dei High School. Your contribution will allow us to keep our equipment up to date and cover our annual website hosting costs.