McManus makes his mark as the new head coach of Mater Dei Football
When Coach Rollinson '67 announced his retirement as Head Coach of Mater Dei Football in November, many wondered who his replacement would be. Having served as Head Coach for more than 30 years, and even playing for the Monarchs himself, Rollinson left a legacy that was not easy to fill.
After an interview process spanning many months, the new head coach was announced on Feb. 16, 2023. Frank McManus Jr., former Mater Dei football player and Defensive Backs Coach for Mater Dei for 16 years, was named the new Monarch Head Coach.
"We thought that at the end of it all, after this [interview] process, Frank McManus Jr. was the best coach for Mater Dei High School," Mater Dei President Michael Brennan said. "He has the institutional knowledge, he knows a lot of the teachers on campus, [and] he has relationships with students [and] with his team. We just thought he is the best fit for our school and [for] leading the program forward."
McManus started at Mater Dei as a student, playing for the football team for most of his years at the school. After graduating, he made the choice to raise a family while working as a banker while in his early 20s. Beginning as a bank teller, McManus worked his way up towards managing the bank by the age of 28.
"I actually started from the ground floor up and worked from the tiller to basically the branch manager of the bank," McManus said.
Eventually, McManus went back to school and focused on getting an accounting certificate, all while coaching his own kids youth football leagues. While coaching, he put in an application to work in aerospace manufacturing, where he would plan how different parts for airplanes or spacecrafts would be assembled.
"I always had to work, but I understood that there was a huge value in having my education," McManus said. "[When] I started in aerospace, [I worked in] ground flour planning, which is planning the work for everybody in the factory, or my specific area."
It was around this same time period when McManus took his son to a Mater Dei football camp and reconnected with former classmate and assistant Mater Dei football coach, Michelangelo Barragan '93.. After discussing his time coaching his son's team, Barragan suggested he meet with Coach Rollinson if he had any interest to continue coaching. After interviewing with Rollinson, McManus was hired as a coach for the freshman teams.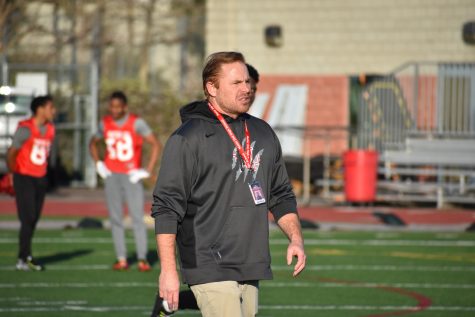 "Next thing you know, I'm a freshman coach, [and] again started on the ground floor and worked my way up," McManus said. "Over the next 16 years, I was in aerospace, working at Mater Dei as a football coach, taking night classes, and trying to support [and] raise a family the best I could."
After working as a freshman coach, McManus decided to pursue a degree in education in hopes of becoming a teacher. While coaching, he took classes in order to receive his Bachelor's in global history and a teaching credential. After finishing his student teaching at Edison High School in Huntington Beach, McManus returned to Mater Dei and worked as a substitute teacher, eventually becoming a resident substitute.
"When I got into coaching, I started realizing that [I] was passionate [about it]," McManus said. "I like being around the kids, I love being on campus, [and] I like being around a lot of energy. I went from banking, to aerospace, to education, [and] started coaching for sixteen years at Mater Dei."
After going through many career changes, McManus felt he found the right fit here at Mater Dei. He once again worked from the ground up, starting his coaching career as a freshman coach, then as a junior varsity coach, and finally as the Assistant Defensive Coordinator for the varsity team before becoming head coach.
"Having been so invested with families [and] having such a strong bond with those families, [it] pulled me tighter to Mater Dei and I didn't want to leave," McManus said. "I had been a part of bringing kids here and being a part of [their] success."
McManus spent his early years as a coach with the freshman team, only working with them for one year before they moved on to junior varsity or varsity.
"The hard part about being a freshman coach is [that] you would develop the kids all the way through the year and you'd start to see [them] really getting better," McManus said. "And then you lose them, whether they move on to junior varsity or varsity."
Over the years as he moved up the coaching ranks, McManus became more familiar with Rollinson's coaching style. The two worked together on the sidelines, especially during McManus's run as a defensive coach for the varsity team. Filling Rollinson's shoes is no easy feat for anyone, including McManus.
"I don't think anyone or anything can prepare you to take over after 35 years of a guy being head coach," McManus said. "It's an incredibly daunting task. Coach Rollinson empower[s] people, and will continue to give [me the] opportunity to grow and learn."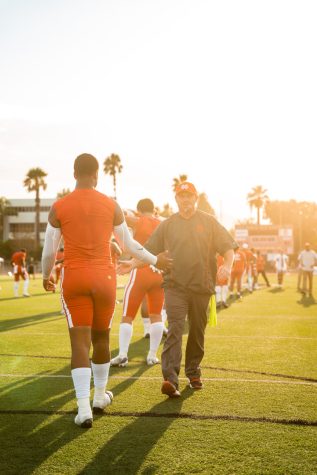 McManus will use his time during the off-season to transition from defensive coach to head coach, deciding which traditions he'll want to keep and which he'll want to change. He emphasized many of the past traditions, such as the three stripes for pride, poise, and courage, in which every player wears three stripes on their jersey to symbolize the three tenets that make up Mater Dei Football. Another long standing tradition is prayer services in the Grotto on campus before and after every game.
"There're a lot of great [team] traditions that have been incorporated that'll continue," McManus said. "There's a lot of things that are going to be similar, [but] you'll see some minor tweaks along the way."
One way McManus plans to improve the team is through increasing engagement with social media, especially during the off-season, and more involvement with Campus Ministry at Mater Dei. McManus wants people to get to know the players of Mater Dei, especially the student leaders among them.
"I want everyone to know about the football players and what we do," McManus said. "I'd like to see additional engagement with campus ministry [to] create better leadership. After 35 years of a set pattern, I think everyone likes that structure."
McManus is set on culminating his life experiences to help him as a coach. Working his way up the ladders of business, education, and now coaching, he has accumulated the skills he needs to lead the Monarchs to another season full of victories.
"When I'm passionate about something, I just do it," McManus said. "I work relentlessly because I enjoy [it]."
Football is incredibly important to McManus. Regardless of title, coaching has been a huge step forward in his life, and becoming head coach is only the next stone in his path.
"[Football gave me] opportunities in school [and] opportunities to spend time with my sons when I was coaching them in their youth leagues," McManus said. "I fell in love with football, because football has given me so much."