Academic Decathlon team goes to state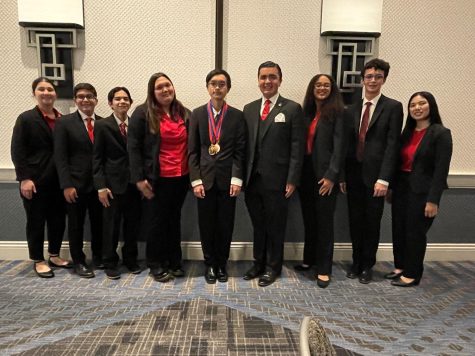 The Mater Dei Decathlon Team offers students a unique opportunity to participate in academic competitions with students from around the country. The program encourages students to expand their knowledge in various categories, with student competitions in the following ten areas: Mathematics, Science, Language and Literature, Economics, Social Science, Music, Art, Essay, Speech, and Interview. Members of the Decathlon Team have high self-motivation, incredible work ethic, and overall dedication to learning. 
The team competes against 30-45 other school decathlon teams in a typical season. Students have the chance to compete in individual and team competitions and can even receive scholarships to college based on their performance. The Decathlon Team is made up of nine students, three at the varsity level with an unweighted GPA below 3.2, three at the scholastic level with an unweighted GPA between 3.2 and 3.79, and three at the honor level with an unweighted GPA above 3.8.
English teacher and Decathlon coach Anna-lisa George '89 explains how the different levels of the Decathlon Program allow for a more diverse and motivated team. 
"[Decathlon] draws from the entire school community and makes our team much more diverse," George said. "It allows students who are really smart to get rewarded for that and to enjoy learning for learning's sake. It's not all about jumping through the hoops of getting the points for class. It's purely self-motivation based."
George also likes that the program brings together different kinds of students and allows them to forge long-lasting friendships. 
"I love it because it gives them a chance to become friends with people they might not have hung out with or to appreciate each other just for who they are," George said. "They create friendships that last a lifetime. I think it's a beautiful program."
This season, the Mater Dei Honors Decathlon Team qualified to participate in the state competition by winning the regional championship against over 30 private schools in the Southern California region. Although the team won this championship the last two years, this was their first opportunity to compete in in-person events since 2019. The team has already completed virtual competitions in almost all categories. The in-person events at the state championship will include speeches, interviews, and the Super Quiz.
While California has a host of competitive schools, George acknowledges that just getting the opportunity to compete in-person is incredibly important for this team of students. 
"I think for this team especially, just getting to go has been so important," George said. "The last three years with the pandemic everybody has felt kind of gypped. So getting together in person, getting to have those memories and to have those experiences together, I think is big." 
Senior decathlon member Ian Tjan has been on Team 2 for one year. Tjan is excited to be advancing to state along with his team for his first and last year as a decathlon member. His team has been working hard all season and Tjan was able to help advance the team onto regionals. 
"To prepare for state [and regionals], the Decathlon team is putting more time and effort into learning as much material as we can," Tjan said. "Everyday we're going through the many guides, handbooks, and looking for tips online to give us the best possible chance at success."
Having completed his final season as a Mater Dei Decathlon member, Tjan hopes to continue improving his skills as he moves on to college and hopes that the scores he received demonstrated his success and hard work. 
"I hope to improve my scores and see that success comes to light [in order to] progress and help the team," Tjan said. "We all hope to win the competition, but even if we get top five or top three, we consider it a win, as it shows improvement from the previous years."
With his time as a decathlon member coming to a close, Tjan reflects on his favorite subject to study. Tjan values the practicality of economics and feels this subject applies the most to his own life. 
"My favorite subject is probably the economics section as it's the one that displays both a historical and practical modern topic," Tjan said. "This topic was the one that I was the most interested in, as it gave me information that can apply to myself, my family, and everyone around me."
After competing against some of the best teams in southern California during the regionals, with the end of his high school career in sight, Tjan acknowledges the significance of moving onto state and being a part of such a strong team.
"Being a senior is a different experience, as you know it's your last opportunity to bring the best to the stage," Tjan said. "But even though I will only be in it for one year, it has given me the experience and drive to be better in the future in other activities."
Tjan hopes that the decathlon team continues to grow in both size and skill. Ultimately, Tjan's goal for the Mater Dei decathlon team is to continuously make nationals annually. Because of his positive experience with the team, Tjan encourages students to get involved with decathlon and improve themselves academically. 
"I would [tell] the younger members of the team, to keep on trying and just know that every time you participate, you are improving yourself, the team, and everyone around you," Tjan said. "Don't worry about your scores too much and know that having an enjoyable time is what these activities are about."
Junior Joaquin Iglesias has been on the decathlon team for three years. This year, Joaquin was a member of team one that competed in state. Though he did not place at state, Iglesias got third place in both the essay and science events in the regionals. He also received a silver medal in economics. Iglesias is happy to be a part of the team and excited to continue in his senior year. 
"My experience with decathlon has been very diverse. From being a red shirt to being on Team 1 and Team 2, and experiencing what it has been like both online and in-person," Iglesias said. "I have made many close friends along the way, some of which I have stayed in contact with after [they graduated]."
When he was preparing for state, Iglesias and the rest of his team members worked hard to learn all of the information they could. Staying hours after school and studying productively, the team made sure that they were well prepared and ready to take on their competition at state. 
"We have been staying after school a couple times a week in the month before our state objectives, as we tried not to have too many practices," Iglesias said. "During the two weeks before our Speech and Interview, we would typically stay until 4:00 and practice both our prepared speech and impromptu speeches to make sure they were the best they could possibly be."
Iglesias is proud of his team and their success this season. As for next year, Iglesias will be a team captain and hopes to advance even further onto nationals. Iglesias has learned a lot from his predecessors and hopes to use this knowledge to improve the team. 
"I am looking forward to being a team captain next year, and I hope to accomplish what my previous captains did in the past," Iglesias said. "I hope in the future our team will enjoy the topics to come, and will continue to do their best."
The team placed 13th overall, with senior Peter Le earning bronze for the scholastic division and senior Mai Khoi Vu receiving a commendation for earning 7,000 points during the Decathlon competition season.