Mater Dei Boys' Basketball team has an impressive reputation as one of the toughest high school teams in Orange County. The team has been awarded a National Championship, 11 state titles, 16 SoCal Regional titles, 24 CIF-SS titles, and 39 league titles in 41 years. They recently ended the last 2022-2023 season, with their 24th CIF-SS title led by former team Captain Zack Davidson. With many talented seniors graduating, and the team welcoming numerous new players, it is hard to say what will come out of this new season. Though it is expected that the Monarchs will prevail once again, we must turn to players and coaches to see what we should expect from the 2023-2024 season. 
Our first look into what this season will bring is the current Fall League, which is a pre-season competition that players across all levels are currently participating in. The Fall League provides an opportunity for teams to get back in the groove as they welcome new transfers and freshmen onto their team. Mater Dei High School is currently participating in this fall competition. 
"Fall League is going well," junior and JV basketball player Nick Anoc said. "There's good competition so it helps sharpen us up before the new season starts."
Off season, Mater Dei Boys' Basketball works equally as hard as during the official season in the winter. They practice weekly, and make sure to keep the team sharp through competitions. Off season practice gives the coaches and players a chance to get to work, and demonstrate what they will bring to the season. 
"I think the upcoming season is going to be a lot of fun since we've been putting in a lot of work during the off season," Anoc said. "I think if we make the right plays and choices our season will go smoothly."
Mater Dei Boys' Basketball has wasted no time during this off season, reflecting on the last season and making sure the new season will go just as well as the last. The team is able to use last season's wins and losses to further improve themselves and the program as a whole. 
"More importantly, I think our team grew together," Coach Nick Novak said. "We became a very strong team and all the other young players grew and just became better."
A new season means welcoming new talent to the team and watching out for improvement in returning athletes. Mater Dei, known for being a prominent team on the court, often has a talented new line up of freshmen, transfers, and returning players each season. This season is no different. The coaches are already looking for players who will bring their immense talent to the team this season.
"I'm really looking toward a player named Will Price to play very physically and play a lot of strong defense for our team," Novak said. 
The players believe that even with changes on the team, it will not set them back at all. Mater Dei lost some prominent players as they graduated, and moved on to playing basketball in college. One of the prominent players lost on varsity is former team captain, Zack Davidson '23, who played a big role in leading the team to victory last season. Without him as their captain, the team still continues to work hard with the new players and current team to create a powerful dynamic which will hopefully lead to another CIF title.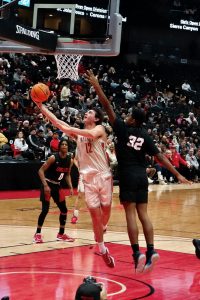 "This season will bring more wins [along with] new chemistry," junior and varsity player Cooper Reed said.
While the players are working hard to make this season better than ever, the coaches are also striving to create a team with strong chemistry and dynamic. The coaches understand their role in making this the best season yet as they encourage and make sure their teams are ready. 
"Developing chemistry as a team is always [an] important role, a role for the coach to help with and assist with," Novak said. "I think just preaching that and playing for each other is a way to grow success."
It is without a doubt, that this season will be no short of the previous years based on the team's credible reputation. With such a talented, and hardworking team, it appears that we can expect some big wins from the 2023-2024 season. The team has taken the last few months to make improvements and come together to be equally successful this season as the last. Let's make sure to support the Mater Dei Basketball Team this season, encouraging them to play hard and keep their winning streak going.