School community celebrates holidays with unique traditions, meals
Families across America will be sitting at decorated tables this holiday season, eating mounds of delicious food, enjoying the company of their loved ones, and taking part in moments full of grace and gratitude. Despite these shared experiences, not all families celebrate the holidays the same way. Each family, especially those within the diverse Mater Dei community, celebrate differently depending on their family traditions and cultures.
For example, freshman Anthony Diulio spends Christmas with his grandparents and entire extended family opening presents and enjoying a large dinner. One of his favorite parts is his grandmother's sugar cookies with lemon meringue.
"I love her, I love her cookies, I love her cooking," Diulio said. "I love the whole family bonding thing that we get and when we gather around."
Freshman Rachel Ranney's annual Christmas tradition is to visit her grandmother in Palm Springs, where she loves to play with her grandmother's dog and put up her Christmas tree, as well as spend time golfing with her family.
"I love doing it because it brings the family together, and it's one of the only times I get to see my grandma during the year," Ranney said. "It's fun to enjoy your family and just be together and enjoy the Christmas spirit."
Just a few weeks ago, the holiday season began with Thanksgiving, which has its own traditions. Senior Andres Garcia celebrates Thanksgiving with familiar set of traditions consisting of a potluck dinner for his family and friends at his grandmother's house.
"We all get together and eat together and talk as one big family," Garcia said.
For senior Kyra Le, Thanksgiving in particular is a day of celebrating the life of loved ones who have gone before her.
"My family has the tradition of placing food in front of an altar for our deceased relatives as we hope that they in spirit can be with us…" she said. "Thanksgiving is a holiday that highlights what I value and who I value in my life."
Spanish teacher Maria Corona recognizes her Mexican heritage in her own holiday celebrations. For her, being from an immigrant family means that she celebrates American traditions with a blend of Mexican traditions, including the type of food prepared and their tradition of attending mass before Thanksgiving.
"We usually spend the whole day making handmade tamales… [and] Mass really helps me put things into perspective," Corona said.
Despite the various unique ways of celebrating, most agree that, at their core, the holidays are a time, senior Ryan Thoreson said, "… to be truly appreciative for the blessings I have in my life."
HOLIDAY RECIPES FROM THE SCARLET SCROLL STAFF
Cuban flan de queso
from Alexa Sueiras, newspaper adviser
adapted from Nitza Villapol's Cocina al Minuto
Ingredients
2 cans of evaporated milk
2 cans of condensed milk
2 eggs with yolk
2 eggs without yolk
1 teaspoon vanilla extract
2 tablespoons whipped cream cheese
Sugar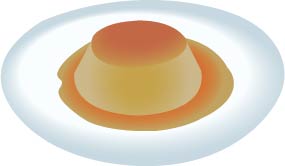 Preheat the oven to 400 degrees. Then, place a large rectangular pan that will fit a small round pan in the oven and fill the rectangular pan with water halfway – this is called a bano Maria. You need enough water to cover the bottom of the rectangular pan.
In a sauce pan, cover the bottom of the pan with granulated sugar and heat over the stove until the sugar dissolves, caramelizes and become brown. Be careful because it burns quickly.
Pour the melted sugar into the small round pan, which will hold the flan. Swirl the sugar for evenness and let cool (it will crackle as it does this).
Then, in a mixing bowl, combine the remaining ingredient and blend with a handmixer for about 2-3 minutes. Pour the mix through a strainer into the round pan with the sugar on the bottom. Using a spoon to help stir, continue until the mix has gone through the strainer.
Cover the round pan tightly with aluminum foil and place in rectangular pan that has been heating in the oven. Bake the flan for approximately one hour.
When the flan is done, it will be mostly firm with a little movement. If it is to watery, return the flan to the oven for another 10 minutes.
Take out the flan and uncover the pan in the refrigerator. The longer it is in the refrigerator, the firmer and tastier it will be!