Sophomore sport stacker joins Team USA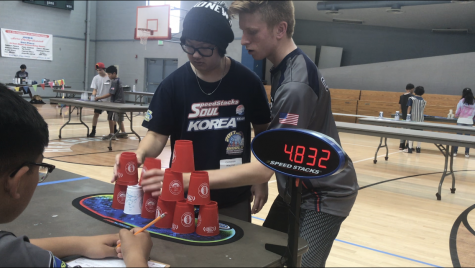 Thirty fifth-grade students roared and cheered as Cameron Fetter swiftly grabbed colorful plastic cups and began stacking them more quickly than any of his P.E. classmates. This was the scene – one of many that occurred during his P.E. cup-stacking relay races – that inspired current sophomore Cameron Fetter to pursue professional cup stacking. This past October, Fetter was asked to join Team USA's sport stacking team.
Soon after his first P.E. relay race, Fetter began watching YouTube videos and practicing with his own set of cups.
"I saw a video of this little kid breaking the world record and I was super intrigued by how fast he went, so I ordered a set of cups and a timer off of eBay and I've just been practicing ever since," he said.
Five years later, Fetter is a nationally- and globally-ranked cup stacker.
Sport stacking, also known as cup stacking or speed stacking, is a team sport focused on an individual team member stacking cups at the fastest time possible. Tournaments involve stacking cups that are designed for the sport in certain sequences designated for competition; for example, some sequences include the 3-3-3, 3-6-3, the Cycle, and the All Around. The Cycle is the most popular and the most famous.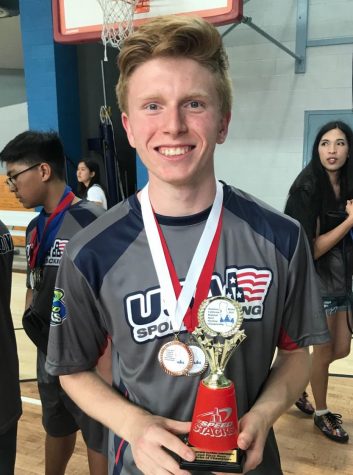 Ranked No. 3 in California, No. 58 in the U.S. and No. 221 in the world, Fetter has had the opportunity to travel to tournaments across the globe with Team USA. In fact, Fetter hopes to attend the sport stacking world championship in Spain this year. So far, Fetter has been to Sacramento, Torrance, and Portland, Oregon, and this summer, he will be traveling to North Carolina to compete in the Junior Olympics.
"I was super surprised [when I was invited to join Team USA] because so many people were telling me that I deserved to be on the national team for the past three years now, and since I just got on in October it was a big shock," Fetter said.
Fetter said he finds his support from his friends and family, as well as the new community that he has met through sport stacking. Fetter's friend since kindergarten, sophomore Dominic Galuppo, remembers being surprised and excited when he first learned of Fetter's sport stacking skills.
"I think it was pretty cool," Galuppo said. "It was interesting and he's come a very long way from where he started."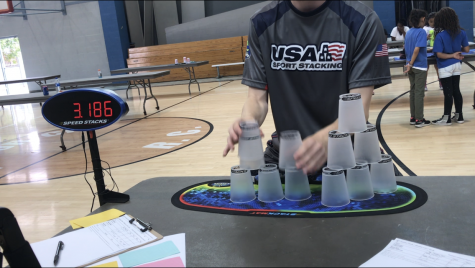 Fetter said he also stays in touch with the sport stacking community through his YouTube channel, where he posts videos of himself breaking his personal records in various stack formations, going to tournaments, and cup stacking with friends.
Through determination and daily practice with his cups at home, Fetter hopes to continue improving and aims to break more records by using a variety of different cups and a mat that times his trials.
"The aspect of just improving and just wanting to get better each and every day, and also with the community … you just have so many people that are lifting you up and it's just nice to have a lot of people there to be around you," Fetter said.
For people looking into getting involved with this unique hobby, Fetter says to look into getting a personal set of cups and a sport stacking timer, as well as to learn from watching other people cup stack.
"Don't be discouraged if you mess up – it's a very accident-prone sport," Fetter said. "Just try to get better everyday … Just go for it."
Leave a Comment