During their time at Mater Dei, students must complete a minimum of eighty hours of volunteer work in order to fulfill Mater Dei's service hour requirement. While service has become an essential aspect of the Mater Dei experience, such time commitment can be difficult to come by for some students due to busy schedules with little to no flexibility. Over the summer, however, several students were able to utilize their less restrictive schedules to give back to different communities. Focusing on centering themselves around a cause they are passionate about, the students we talked to all strived to demonstrate Monarch character outside of campus. 
Freshman Caroline Parker is one of many who volunteered over the summer. Every year, Parker has volunteered as a counselor at Our Lady Queen of Angels for her parish's Bible Camp. Parker managed the Imagination Station, which is the arts and crafts table for the children in attendance. At this station camp counselors turn lessons about God and Jesus into crafts, like making a booklet with Bible stories in it. Parker's main priority at camp is creating a fun and entertaining environment for the youth. 
"Honestly, I just like to be friendly with the kids because it [is] always better when there [is] a fun counselor there," Parker said.
Parker also views such volunteering as a perfect way to give back to her elementary school after all the years she had been there. It is also a way for her to stay in touch with the teachers, staff, and other camp counselors.
 "I like giving back to my old school because I was there for so long. I just feel like it's a way to stay connected," Parker said.
Parker thinks being a camp counselor is definitely something that most people should try. At Our Lady Queen of Angels Bible Camp there is an activity for everyone. Counselors are presented the opportunities to help with arts and crafts, teach the kids bible stories, assist with sports, and play games. 
Other students interviewed have also participated in volunteer opportunities outside of their community.
Junior Lydia Lea spent one week volunteering in El Salvador through the charity organization, RTWELVE, which partnered with "His Hands, His Feet." Under this partnership, Lea worked alongside other volunteers to help plan a quinceañera for underprivileged girls in orphanages. It is through this experience that Lea was able to help empower different communities beyond her own.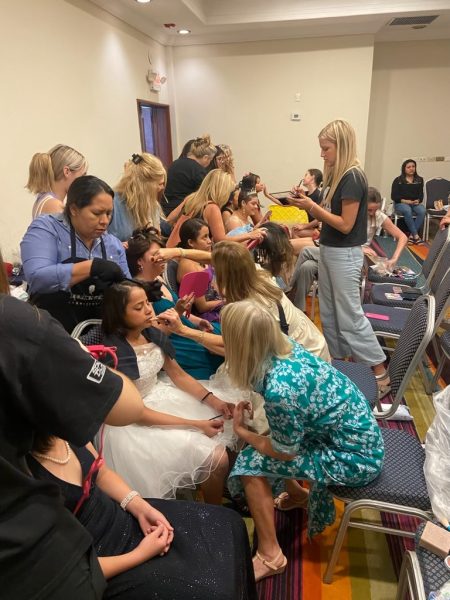 "We did that because it's really important to their culture to have a quinceanera, and most of them feel neglected at the orphanages," Lea said. 
Over the course of this trip, Lea's responsibilities were put into play through direct service. This included collecting dresses and shoes, helping the girls pick out their outfits, as well as doing their makeup and hair. By working with struggling communities, she has helped foster a safe, loving environment for young women. 
"[We told them] that they were beautiful when they came out in dresses and saw the smile on their face," Lea said. "They felt so loved, and you could tell that they don't get that often." 
Lea's involvement as a volunteer reflects her own family and their history. This has helped Lea identify with the time and energy she has contributed, fostering a greater purpose to uplift and advocate for others. 
"It was important to me because I'm part Mexican. And it was really important for my grandma because she didn't have a quinceañera," Lea said.
Junior Ava Gomez spends her free time helping retired race dogs find homes through the charity Fast Friends, a Greyhound rescue association. Gomez assists in washing and spending time with the dogs to best prepare them for the adoption fair.
"[During the fair] three out of the six of the dogs got adopted the day [I volunteered]," Gomez said.
After the years of hard work being bred to race, it is important that the dogs finally understand freedom. The Fast Friends team ensures the dogs go to a good home that is interested in Greyhounds. 
"Our job is to just play with the dogs so I feel like it's a really easy and fun way to help your community," Gomez said.
Volunteer work goes beyond simply reaching the required amount of service hours. Rather, it is the intent that is rooted within each action that establishes and cultivates change. It is through the process of change and striving to understand the conditions of others that these students have helped to embody honor, glory and love. Lea, Gomez, and Parker have not only grown as individuals from each of their experiences, but they have all gained a newfound sense of pride within the work they do. 
"I want to [volunteer] again next summer. I really want to because it was just such a good feeling. I also made so many friends on the trip," Lea said.
Gomez also recognizes how being involved has helped herself and others. 
"I feel like it not only allows me to grow as a member of my community, but helping people is really nice," Gomez said.