New dining services director creates more efficient lunch system with more variety
Earlier this semester, John Cheng retired from the school's food program after 13 years of service to the school and 45 years of working with Sodexo. Since then, Angel Guerrero has taken charge of the position of the Director of Dining Services. 
According to Guerrero, one of his main goals as the new director is to make the purchasing process more efficient.
"My idea is to put a scanner outside so that students can scan their own cards while we use the scanner inside to scan all the products they're getting," Guerrero said. "That's going to make so there's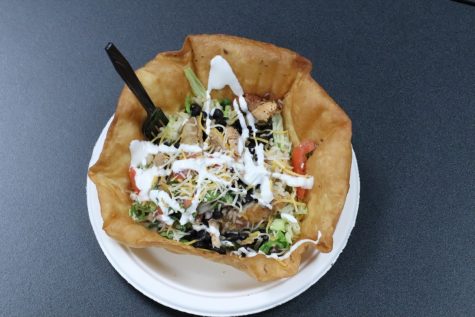 no errors [and] it's faster because student [cashiers] aren't going to have to be pushing buttons or looking for specific items."
Guerrero is also working on a developing a program called "Simply To-Go," which would allow students to quickly grab items. The station wouldn't take cash so the lines would be much shorter.
"We know that a lot of kids come in, see the long lines, and walk out," Guerrero said. "Why? Because they don't want to wait 15 to 20 minutes in line to get something."
In addition, Guerrero has made it a point to improve the menu so that it is tailored to students' interests, including offering more health-conscious choices.
"I'm trying to figure out what you guys like," Guerrero said. "I'm keeping track of the menus that I've put out, things that are selling, so that I can keep those, and in future menus, I can have those items there." 
Additionally, Guerrero has started to work with a wellness committee of made up of several faculty and staff members including the school nurse Shannon Brown. Over the past few months, the committee has discuss what new food options should be added to the menu – including the faculty and staff's own cafeteria menu – other concerns about health issues on campus. Next year, Guerrero said that he plans to create a food focus program that has a panel of one student per grade, parents, some faculty, and himself that would meet monthly and address what they would like to see on future menus.
"[At] the place where I came from, it was something that was a standard to have vegan/vegetarian options everyday," Guerrero said. "I know that kids now are evolving from the taste they had before. Before it was a lot of meat and potato type menus; now it's a lot more healthy, light eating, so I know that's where the trend is going and I'm trying to stick with it."
To keep students informed about new food options at lunch, Guerrero started an Instagram account, @mdfood, that posts about special items that are available for lunch. Some of these new items include the pork banh mi and the vegan friendly "Beyond Beef" taco salad. 
Guerrero has also been toying with the ideas to create labels for the new food items that will clearly label their dietary accommodations. He also is working on creating labels that will have the ingredients list of items sold so we can make more informed decisions.
"There's a lot of different things in the works," Guerrero said. "Unfortunately, since I came in so late into the year I won't be able to work on a lot of those this year but I'm definitely looking forward to next year."