Plan ahead for pre-prom photos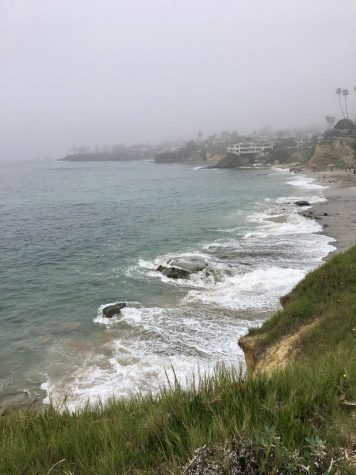 As the year comes to a close, prom season is finally here. This year, Prom will be held at the Aquarium of the Pacific in Long Beach. For groups that are still looking for pre-prom photo spots, here is a quick guide to some spots in the Orange County and Long Beach areas.
Inspiration Point
One of the most popular photo spots for Mater Dei students is Inspiration Point in Corona Del Mar. This lookout spot gives an amazing view of the beach and ocean, making it the perfect backdrop for both group and action photos. However, this location does tend to get crowded so plan accordingly.
Inspiration Point is located at 3001 Ocean Boulevard in Corona Del Mar.
Noguchi Garden
Just 3 miles down Bristol Street from the school is Noguchi Garden. This minimalistic sculpture garden built in 1982 has details that represent key geographical features in the state of California. Filled with granite pieces, plants and succulents indigenous to the state, this simplistic spot provides a great natural photos. It is best to allow you and your group extra time to gather as parking can be difficult.
Noguchi Garden is located at 611 Anton Boulevard in Costa Mesa.
Jeffrey Open Space Trail
This short walking trail has become increasingly popular for photoshoots such as for dances and engagement photos and is recommended for anyone who wants to have a rustic backdrop. The trail itself is surrounded by many trees, so if you and your group are looking for greenery, this may be the spot for you.
The Jeffrey Open Space Trail is located at 13252 Jeffrey Road in Irvine.
Earl Burns Miller Japanese Garden
Located in the campus of Cal State Long Beach, the Earl Burns Miller Japanese Garden is a lush space that features a pretty wooden bridge, a Japanese rock garden, and a pond filled with koi fish. The willow trees throughout the garden provide a serene environment and a great opportunity for a short stroll in an ethereal setting. However, as it is located on the college campus, they have specific visiting hours and an admission fee of $2 for visitors ages 4-18, and $5 for adults.
The Earl Burns Miller Japanese Garden is located at Earl Warren Drive in Long Beach.
Other ideas
Downtown Santa Ana
Anaheim Train Station
The LAB
Top floor of parking structures
Disneyland Hotel
The Walter Pyramid at Long Beach State University