Activities gets closer to $500K needed for ASB expansion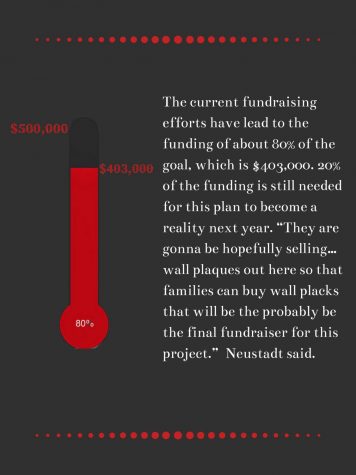 With construction for the proposed ASB expansion planned for the end of this school year, fundraising efforts are in full swing. So far, Diana Neustadt, director of student activities, and Jeanette Costa, associate director of student activities, have raised $403,000 of their $500,000 goal, leaving only $97,000 remaining to meet their goal.
The new version of the ASB center will include a renovation, in addition to the expansion, which will create a collaborative space for students to interact and create, Costa said.
"…I think one of the biggest misconceptions is that people think it's just like … bigger offices … for us and it's not. We're actually [getting] less office space," Costa said. "There needs to be a space for you guys to work, to meet, to create, to store things."
Neustadt anticipates the expansion to also include a large screen to project photo slideshows of ASB's work, a counter with computers to use, and more space for the ASB class and for meetings.
ASB President Dakota Rymer said she thinks their organization needs this expansion because there is a lack of space currently available.
"I've always thought we needed to expand the building…" Rymer said, who was class treasurer as a freshman, sophomore and junior. "It's always so tiny in here and my ASB leadership class isn't even held in here because there are too many kids and we don't have enough space to even do posters and make videos and commercials…"
ASB has always been expanding and changing, but Neustadt pointed out that this is the largest project they have undertaken in terms of construction. In order to reach their fundraising goal, the Activities Office has already sold candy grams, reached out to ASB alumni for donations, and sold the new senior painted parking spots. The spots, located in the Monarch Way lot, raised a total of $45,000 alone. However, the senior spots will continue being sold even after the project is completely funded.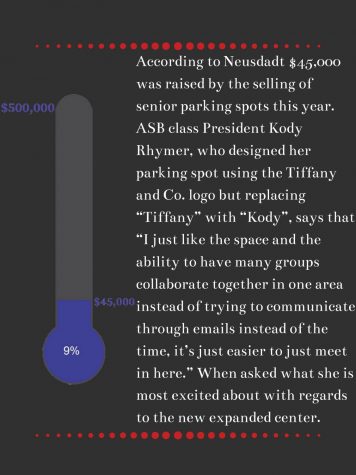 "…after we're funded for this project the money will go in to our affinity fund to help kids with dances or … ASB fees in the future," Neustadt said.
For those that are interested in donating any amount toward this expansion, click here.