Music fans enjoy FivePoint Amphitheatre
As day turns into night at the Irvine Great Park, the FivePoint Amphitheatre lights up with colored lights, smoke machines, and shiny instruments. Talented and famous artists take the stage every night, singing and playing for up to 6,500 people.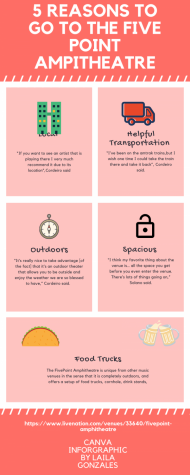 Senior Anthony Solano has become a frequent visitor of the amphitheatre, attending concerts for the bands Cage the Elephant, Beck, Sum 41, and other punk bands.
At many music venues, cheaper seats that are far from the stage are often difficult to see from. However, according to Solano, this is not the case at the FivePoint Amphitheatre.
"From my experience, from the bleachers you can still get a nice view from where you're at, they have nice screens and everything," Solano said.
The venue also has a helpful way of transportation by having a train station right next to it.
"It's a perfect opportunity," Solano said.
If concertgoers are unable to drive, don't want to deal with parking, or simply want a fun and easy method of transportation, the train is a great option.
The FivePoint Amphitheatre is unique from other music venues in the sense that it is completely outdoors, and offers a setup of food trucks, cornhole, drink stands, and places photo ops.
"I think my favorite thing about the venue is… all the space you get before you even enter the venue. There's lots of things going on," Solano said.
English teacher Chelsea Cordeiro attended the venue when it first opened in 2017. "I went two years ago and I saw Young the Giant, and I think they were the opening act," Cordeiro said.
Cordeiro was impressed with the new venue, noting how spacious it was.
"It's really nice to take advantage [of the fact] that it's an outdoor theater that allows you to be outside and enjoy the weather we are so blessed to have," Cordeiro said.
The venue's Irvine location allows patrons to avoid Los Angeles traffic or driving to San Diego when attending a concert.
"If you want to see an artist that is playing there I very much recommend it due to its location," Cordeiro said.
Junior Skyler Cisneros also took into account how beautiful and calm the venue was.
"The outdoor space wasn't crowded and had a very relaxing atmosphere compared to most venues which are packed", Cisneros said.
Check the website to see upcoming events.