Mountain biker aims to compete professionally
Surrounded by green in the woods, Bell eyes the dirt track is in front of him. The race is about to start. Adrenaline builds. All there is to do is go.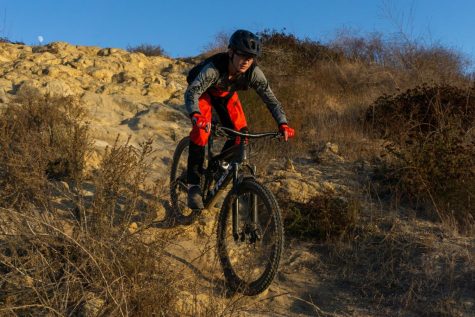 To someone who doesn't know much about it, mountain biking might seem frightening or impossible, but to junior Haitham Bell it's where he thrives. It all started when a few friends needed some help making a mountain biking club, so he decided to sign up—and now he's competing.
"…for riding, it's kinda like an escape for me to get out of the stress of school…" Bell said.
Bell trains six days a week; two are spent in the gym and the other four on a bike. According to Bell, a major challenge in mountain biking is not knowing what will happen.
"I like to think mountain biking abides by Murphy's Law: 'whatever can go wrong, will go wrong'," Bell said. "For example, my last race in NorthStar CA, I was on my third stage of the race and got a flat rear tire. I ended up breaking my wheel in half, this put [me] from 6th place to dead last [at] 26th. It's just an unpredictable sport, crashing or equipment failure is inevitable when you leave it all out between the tape."
Working at Two Wheels One Planet, a bike shop located in Costa Mesa, has helped Bell gain additional experience in bikes.
"It made it easy for me to learn how to work on my bike when I was in a race and I don't have a mechanic to fix something for me," Bell said.
A season lasts from January to late August and a race takes place about every two weeks throughout those months. For the last two seasons, Bell has been a privateer, or an individual competitor. This year he will join a team that is specialized in weather terrains. Bell's goal is to be competing professionally next year.
"It's hard to choose just one memorable moment because everyday on the bike is better than the last," Bell said.