Multi-sport athletes encounter challenges due to CIF schedule changes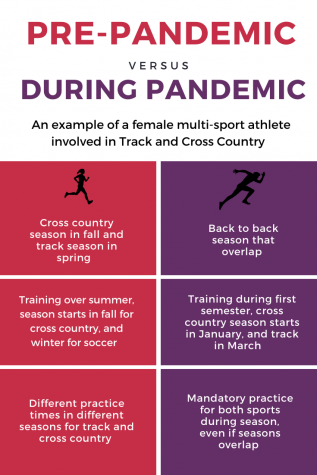 High school sports schedules have seen major changes in the past few months due to COVID-19. On July 20, CIF stated that 2020-2021 sports seasons will be pushed back, with fall sports starting in late December. 
With the delay of all sports seasons, the most impacted by this are multi-sport athletes because now the winter and spring seasons overlap – fall and winter sports will begin in mid-December, and Spring sports will begin mid-March. And, instead of having a full season, some of the seasons have been cut a little shorter for all sports to have a season.
"They overlap a little bit at the end of cross country and beginning of track season," said senior Tait Vigeland, who runs on both the cross country and track teams. "For now, it's not too bad, because, with the pre-season, we can make adjustments. Once we get into the season and there [will be] mandatory practices, it gets a little stressful because there are a lot of things you have to be there for" 
Athletes like Vigeland who do multiple sports in different seasons, now have to figure out a schedule of practices and school work with a short amount of free time. Usually, track and cross country is in the fall and spring, giving cross country athletes some time to rest and prepare for the track season.
"It's going to be very stressful once the cross country starts to overlap with the track," Vigeland said. "We won't get much break in between, but that's in the future, so I don't want to worry about that right now. I know our coach will figure out something good for us to do." 
Senior Reagan Arvidson is another multi-sport athlete who plays on girls' soccer, cross country, and track. Arvidson's soccer and track seasons will overlap due to the winter season being moved to the spring. 
"It's [all] about being good about time management," Arvidson said. "It's kind of nice to have a sister in the same class and same boat with cross country. The hardest days will probably be when I have cross country and soccer on the same day, it's usually club or schools' soccer but the coaches have been really nice. They've modified the practices to where I could have cross country that day." 
Besides planning a schedule that allows student-athletes to do all of their sports and manage their academic and extracurricular responsibilities, many multi-sports athletes feel pressure to perform well in both sports while also avoiding injury from overuse.
"There's always that kind of [pressure] that you've got to be at your top game," Arvidson said. "From going to cross country from soccer practice, I'm going to be tired. My legs are going to be tired, but [my] coach still expects me to perform well or vice versa."
Multi-sport athletes this school year may need to prove themselves more than ever. With all the changes happening, athletes are working on performing their best in these current situations by using this time to focus on their training. Although this year has presented a multitude of unexpected challenges, athletes are excited to go back on their field and play. 
"[Once the season becomes closer], it gets more serious, but as we practice running, we also practice like good attitudes and good practices of time management and stuff," Vigeland said. "As a team, we've really been trying to focus on the positive and see that we have more time to train and focus for when the season does come around."