COVID booster shots and the guidance around them
Oliver Cary, Managing Editor & Senior Assistant to the Advisor
September 29, 2021
As the COVID-19 pandemic continues and vaccines are slowly gaining approval from the FDA, the attention of some turns to the possibility of needing a booster shot. Currently, there is no definitive recommendation for the booster shot to the general public; however, there is a strong consensus that getting a booster is recommended to the immunocompromised.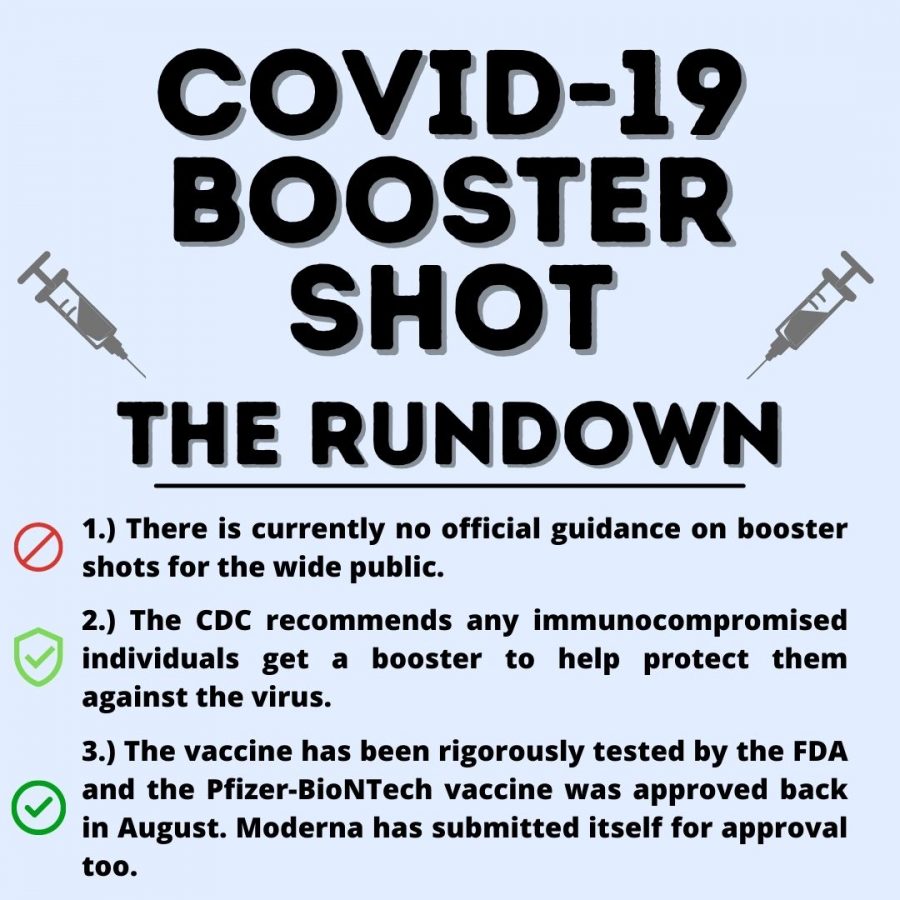 At the moment, the CDC has said that starting in the fall, all individuals are eligible for a booster shot eight months after they received their second dose of an mRNA vaccine (Pfizer-BioNTech or Moderna). There are still discussions to be had surrounding the Johnson & Johnson vaccine and whether or not someone who originally received the J&J vaccine could or should receive a booster shot from one of the other providers.
One person who supports the use of COVID booster shots for the immunocompromised is Interim School Nurse Aimee Boyles who plans to get her booster shot as soon as she can.
"I'm going to get it once it's available," Boyles said. "It's especially important for people that are immunosuppressed. I'm immunosuppressed and the first and second doses may not have provided my body the proper immunity, [so] I would want more protection that the booster will give me and lessen the severity [of COVID]. Even for someone that isn't immunosuppressed, I recommend that they get it."
After emphasizing the recommendation to get a booster, Boyles continues as she highlights and stresses the importance of getting the first two doses and what motivated her to get hers.
"I did have COVID last July before the vaccines were out and it was not fun," Boyles said. "That encouraged me to get the vaccine. I don't want to get this again. There's these different variants [posing a risk]. If it's the recommendation of experts, I would accept any protection against any virus."
Boyles hopes that the FDA's approval of the Pfizer-BioNTech vaccine will bring a wave of new vaccinations as people who were hesitant before due to the emergency approval of the shot see that it has been rigorously tested for safety.
Speaking to those who are still hesitant, Boyles looks to history as she explains how vaccines have become something that we rely on and trust for added layers of protection against a variety of diseases, bacteria, and viruses. COVID-19 is no different. 
"If you just look historically at vaccinations and boosters – I prepare all the immunization records at the school and get them and load them into Aeries – it's four polio shots, five diphtheria shots, two measles, among others. We've already been given so many vaccinations, so I'm not sure why people didn't question all of those for their newborn babies. We have [limited] or eliminated so many diseases, like polio and measles. And this is just one more that I think we can add to immunizations going forward," Boyles said.
Though she sees how vaccines and boosters can immensely help fight viruses and prevent harmful diseases, Boyles also notes how people getting vaccinated help one's community, not just themselves. "I'm not crazy about the [COVID booster]," Boyles said. "But I do encourage it and think it's going to make life better for everyone. It's something that's the right thing to do, right? Looking out for everyone else."