Learning to serve: Senior students applying to military and service academies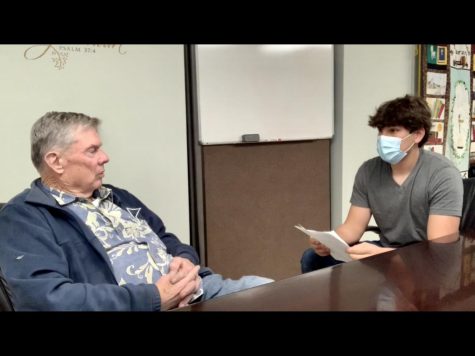 As the 2021 college application season progresses, several senior students will be applying to many of the nation's military and service academies. These schools, which include the United States Military Academy, Naval Academy, and Air Force Academy, among others, offer an array of undergraduate degrees and automatic officer positions to those students who successfully graduate from one of the institutions.
In addition to the college degree and the automatic officer position, senior Dan Velarde finds many other advantages to attending these institutions.
"The cadets at West Point [United States Military Academy], the environment, the education, and the challenge of character-building are big advantages," Velarde said. "I also like how they have 36 different majors you can choose from, and that you will be studying with the most excited, motivated people in the world. It all is extremely inspiring and motivating for me."
Although these academies offer such perks and advantages, Velarde warns that choosing to receive an education at one of these schools is a decision to not take lightly.
"Some of my best tips are to start early and make sure that this is something you genuinely want to do — remember that the training at these schools is hard, so you don't want to come here just to look cool," Velarde said. "Try to figure out what you want to do and don't want to do, and understand the reasons why you want to do the things you love."
Senior Trinity Hanson, like Velarde, is attracted to these colleges because of their educational offerings. For Hanson and her family of servicemen and veterans, a life in the armed forces is not uncommon.
"My dad is a marine, my brother's a marine, my sister is in the army, and grandpa was in the navy. It's kind of a family thing, but [my family] has never been pressured into it," Hanson said. "My whole basis for wanting to pursue military schooling is that I want to give back to those who protected others, and be a part of something bigger than myself."
In choosing to attend one of these schools, Hanson states that she acknowledges both the advantages of the academies, but also their difficulties and challenges. To prepare for the physical demands of the United States Naval Academy, Hanson says that she regularly exercises and trains.
"As far as the physical aspect goes, I try to do cross training. I also swim at Mater Dei, do distance running in my free time, and play beach volleyball," Hanson said. "The physical aspect, of course, is very demanding, especially in the beginning. [The Naval Academy] wants to make sure that people […] will be prepared for what they will face in certain circumstances, especially in combat roles."
Senior Chase Meyer resonates with the sentiments expressed by Hanson and Velarde, and affirms his passion for these schools by explaining his family's relationship to the armed forces.
"This is something that's just been huge in my family and I [know] a lot of people that have either been in the military or have worked in military contracts. Actually, my grandfather was in the army, received a Purple Heart, and is currently buried at Arlington National Cemetery," Meyer said. "I always knew that I could pursue an education there and get a great job afterwards — that's something that I think is really important."
Before applying, Meyer cautions that applicants should reflect on the implications of their decision to apply or join a service academy. However, Meyer states that even if an applicant is unsure of their future goals, the education and experience provided by these schools offers graduates an abundance of opportunities.
"I think it's important to keep your options open and know that any path you take is okay," Meyer said. "Even if you're not certain of what you want to do or where you want to go in life, these service academies offer a wide variety of jobs, positions, and other educational training that you can take advantage of. It's important to accept who you are and to make sure that you know that you're happy with that decision. You're not making that decision for anyone besides yourself."
View Comments (1)