Mater Dei Student Publications Reviews Fall Foods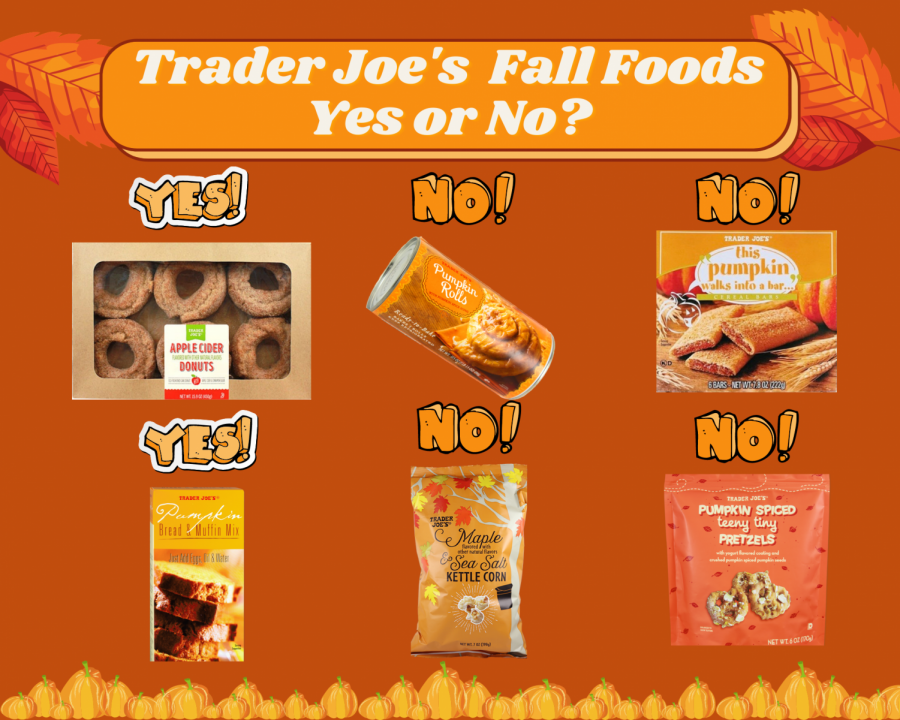 The new season of autumn has officially begun and with it comes cooler weather, shorter days and the best part: exciting foods! Pumpkin spice, maple, and cinnamon flavors are synonymous with the fall season. Popular grocery stores like Whole Foods, Trader Joe's, and Ralph's are coming up with new, innovative foods for the season. Such as, DIY pumpkin shaped cakes and cookies. This year, student publications tried six different pumpkin and maple flavored fall items and shared their opinions regarding these new foods.
First was apple cider donuts courtesy of Trader Joe's. On their website, the donuts are described as having an "apple-forward flavor, making them extra moist, and contributing to their extra-fluffy texture. [The] dough is formed into perfect donut rings and dropped into hot oil to cook. Midway through, the rings are flipped, and the near-perfection that is a Trader Joe's Apple Cider Donut inches ever-closer to completion. [Then] they are hand-rolled in generous amounts of cinnamon-sugar."
However, one Mater Dei Student Publications member felt strongly about both the lack of flavor and exceedingly dense texture, going as far to claim on the anonymous survey that "the donuts were a little too thick". In addition, the flavor failed to translate and was often compared to being a brown sugar donut, not apple cider. This resulted in an average rating of 7/10 from the student publications staff.
Next was the pumpkin bread. All that is needed to create the bread is household baking items. The preparation of the pumpkin bread mix is described on the Trader Joe's website as "the Mix – combined with eggs, oil, and water – makes a generous loaf of moist and fluffy, lightly spiced pumpkin bread."
Student publications quickly decided that the pumpkin flavor was not as prevalent as they would like. One staff reporter even rated it as low as -10, claiming, "I almost spit it out. For someone who likes pumpkin bread, this was trash. I did not like it at all and it made me want to cry." However, despite the unpopular taste and texture, the pumpkin bread averaged a rating of 5/10.
After the pumpkin bread were the pumpkin cereal bars, a popular item amongst elementary age children. They do not appear on the Trader Joe's website, but can easily be described as a basic cereal bar with pumpkin pie filling.
This item was met with a somewhat controversial opinion, as one staff reporter loved them, claiming, "These pumpkin bars tasted good, with a perfect flavor and texture." However, the majority of staff hated the "dry" texture prevalent in these bars resulting in a low average rating of 4/10.
Pumpkin spice pretzels followed the bars. These pretzels specifically were the "teeny tiny" variety. The pretzels are described on the website as, "taking classic mini pretzels, in all its salty, crispy, crunchy glory and covered in a sweet, pumpkin spice-infused yogurt coating. Then, [dotted] with our very own Pumpkin Spiced Pumpkin Seeds."
The pretzels were slightly above average with no distinct comments being made about them and awarded the rating of 7/10.
Last, was the average maple popcorn with little to no comments made about them and an average rating of 4/10.
Don't be shy, share your opinion with us via the poll on the homepage!
View Comments(1)
Donate to The Scarlet Scroll
Your donation will support the Student Publications Department at Mater Dei High School. Your contribution will allow us to keep our equipment up to date and cover our annual website hosting costs.