Latine Student Association honors Hispanic Heritage Month through activities and celebrations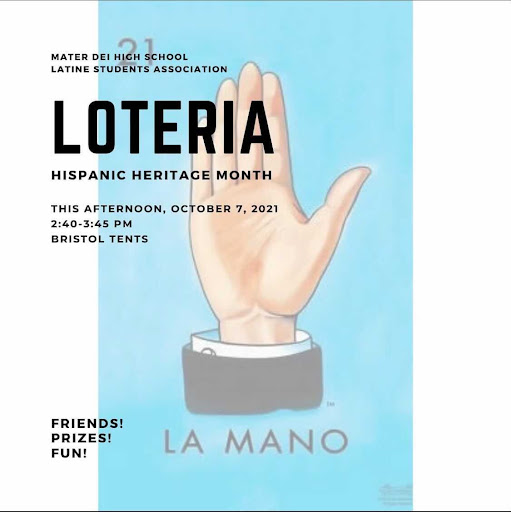 Cultures from all over Latin America are celebrated during Hispanic Heritage Month which kicks off Sept. 15. The celebrations that are expressed throughout Hispanic Heritage range from major accomplishments to even small groups that impact Hispanic culture. Events that include an after-school loteria game and the 9 day novena are being organized by the Mater Dei Latine Student Association to celebrate the month. This Association was founded in the Spring of the 2021, by President and junior Sarah Kubasek.
Outside of the association, club moderator and Spanish teacher Chris Llamas holds activities for Hispanic Heritage Month. One of the activities is composing a quote that reminds Hispanic students of their experiences from events in their culture that were impactful and coloring an art piece that represents the quote.
There are a variety of different clubs that are active at the school which include both educational and recreational clubs. Kubasek and Llamas strive to include and carry out many events, especially during Hispanic Heritage Month. The association is currently active and although there have been barriers such as COVID-19 restrictions. Kubasek is dedicated to ensuring unity with everyone, not just Hispanic students.
"It's all about unity, bringing people together and enriching the campus, and just bringing awareness to our history and culture," Kubasek said. "One thing I like to let everybody know is that the club is open to everyone. Anybody can join. You don't have to be Latino to join."
An administrator and teacher in the Spanish department, Maria Corona shares her experiences embracing her Hispanic culture through interpretative dance.
"Getting to know my culture a little bit better was through my baile folklorico," Corona said. "It opened up so many opportunities and it made me feel close to my heritage, in a way that was fun and engaging and also made me feel like I got to share my heritage with other people."
Corona shares the great opportunities that come with spreading Hispanic heritage through school events.
"[Organizations and clubs are] always an amazing opportunity for […] anyone to learn a different culture or even their own culture a little bit more," Corona said.
Along with spreading cultural influences, history also comes into play. Corona reflects on the legal history that involves her Hispanics heritage – and how the American law system affects how she celebrates her culture.
"One of the first cases that kind of paved the way was actually Mendez v. California. It was similar to the Brown v. Board of Education and equality and education for at the time Mexican students," Corona said. "It was a huge case that they won and [the] Mendez Intermediate School here in Santa Ana was dedicated to that family and the work that they did for the Mexican students at the time."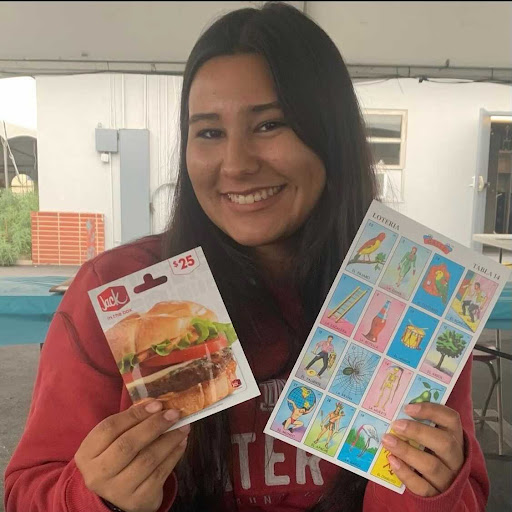 Administrators, such as world language department chair Zeyda Marsh, are thrilled to have representation for Latino Students and traditions.
"Anything that is done in our school to promote the different cultures and represent [them] is always welcome. It is important that we all know each other's backgrounds in interracial communities such as Mater Dei," Marsh said.
Although Marsh is glad that the Latine Student Association is promoting Hispanic culture throughout Hispanic Heritage Month, she is also excited that the association can promote Hispanic culture year round.
"We're Hispanics every single day…and we should be proud," Marsh said. "Be proud of who you are. Don't hide your traditions, your culture, your family values, [and] your morals, because that's what makes us Hispanics."
Upon recounting events held for Hispanic Heritage Month, Marsh shared some ideas that could be implemented.
"Movies, food festivals, [and] teach how to dance," Marsh said. "Not just salsa—salsa from Puerto Rico, cumbia from Colombia, reggaeton from the Caribbean—you can teach a few things."
Another idea Marsh had is implementing a segment on Monarch Television teaching a couple phrases in Spanish, but most importantly, Marsh wants to start a conversation.
"Talk a little bit more about why [Hispanic Heritage Month] is important, for everyone to know that there's a lot of Hispanics who have contributed to our society here in the US," Marsh said. "Being Hispanic to me has gotten me closer to God in my work."
For more information on the Mater Dei Latine Student Association, contact President Sarah Kubasek or reach the association on Instagram.
Leave a Comment