Student produces mixtape to boost his music career
The accessibility of streaming services in recent years has allowed for many to dive deeper into the world of music. Many public companies such as Apple, Spotify, and YouTube, to name a few, allow for the free distribution of music. Artists, even those not signed with a record label, are free to share their music so that anyone who uses the platform can listen. A plethora of new, unsigned artists have since released their music onto these platforms. Producer and junior at Mater Dei Ethan Ferguson is one of them. 
Ferguson released his very own mixtape, Fawsm, on Nov. 5, 2021. In the music industry, he goes by the name "Francis," and the mixtape itself explores the topic of alter-egos. In previous years, Ferguson went by the producer name "Fawsm," and attributed this project to his old name. The mixtape includes 16 songs and features more than six artists from around the world. 
"The whole message behind it really is actually about alter egos and different types of personalities and [such]," Ferguson said. "So that's why there's two different names mentioned […]"
Creating a full-scale project was a huge goal for Ferguson. Over the course of almost three years, he was able to combine original beats with his own lyrics and global features. From having an idea in his head to writing it down on paper, Ferguson was able to finally release his project. 
"I always had [the] idea of putting a project together and it was just a matter of time of just putting it together," Ferguson said. "It's kind of like taking your greatest hits but like not even really released yet and putting them all [together in] this whole project thing. And finally, compressing it and sending it out everywhere."
Ferguson has played the piano since he was five and has taught himself many other instruments along the way. When he was younger, he would listen to old records with his grandparents and revel in the music of an earlier time. A passion for songwriting and producing was then instilled. 
"That was important for me," Ferguson said. "I really got a lot of that inspiration and I would say that I just really relate to a lot of music. Especially because I was exposed to a lot at an early age." 
From learning to play instruments and beginning to understand mixing sounds together, Ferguson would take samples from various records and construct something new. By taking the beat from one song, the background from another, and adding his own twist to it, he was then able to create a completely different piece. 
"[You're] finding different types of samples and stuff [from] all across the world […] different parts of the world, different cultures," Ferguson said. "You put those together [and] you get something that's fresh." 
Since 2019, Ferguson has been working on producing his own music and eventually released Fawsm, his self-titled mixtape. Ferguson went with the mixtape instead of the classic album because it would be easier to distribute and free for listeners to download. In addition, the mixtape would help him to increase his audience and bring mixtape culture back. 
"[A lot of artists] like to release mixtapes and [such] before they do [an] album. It's traditional," Ferguson said. "I know [that a lot of artists] go straight to albums now, [but] I really try to bring the culture, the whole mixtape, back."
Culture had a big influence on Ferguson, which is something he worked hard to include in the mixtape. He worked with artists from over three different continents, including Asia, South America, and Africa. Through working with these collaborators, Ferguson was able to bring multiple different cultural sensibilities together into one project. 
"One thing I learned especially is that a lot of people have different types of music. Music is a big part of culture, right? There's a lot of different cultures out there," Ferguson said. "When I did this project it was more about taking different parts of the world and meshing them together[…]"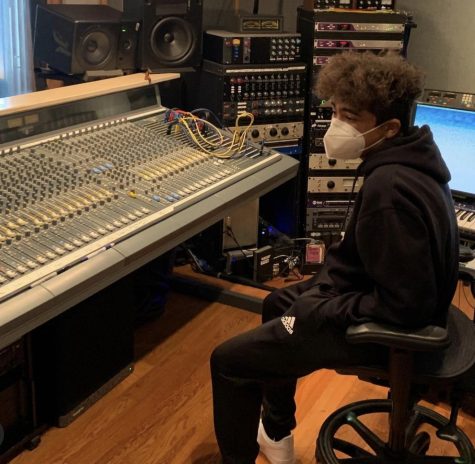 Ferguson's collaborations were not only international, but also local. He worked with Mater Dei alumni as well as current students. The expansive alumni network that our school offers has created a guidebook for Ferguson to learn from. 
"I worked with a lot of Mater Dei alumni, especially on vocals and mixing tips and musical tips," Ferguson said. "So it was a lot of going back and picking up favorite things that I loved separately and putting it all together so it can finally consecutively tell the story." 
Ferguson met two particular students that ended up being featured on the album. Seniors Kainoa (Noah) Dang and Kimberly (Kimmie) Pidazo can be heard playing the piano and singing in the track "Dang! Kimmie," whose name is a play on the pair's names. Ferguson recorded them while playing at school, turning the recording into a track, and eventually a song. 
"The whole singing part in the background, the vocals, is actually Kimmie singing the whole time so that's why I called it [that]. I attributed it to them because those are the first two students I really met here at Mater Dei," Ferguson said. "So that's why I felt like [they were] important to include."
Being able to produce even during school hours is what made Ferguson able to stay motivated. He takes AP Music Theory as well as Musical Theatre, both of which help develop his skills. With an outlet to produce at school, balancing his student-producer dynamic has become easy. 
"I try to stay musically involved in school, so that way it does help me when I'm creating outside of school," Ferguson said. "Balancing is a big thing for me […] I've always made sure to keep mastering that. [So] it's not that big of a struggle as it may seem." 
Drawing on his own experiences without going into too much personal detail was an important thing for Ferguson to learn. 
"You always want to keep it up to a point [so] it's relatable to everybody. But I did try to keep a lot of my experiences relevant within it," Ferguson said. "And that way, a lot of people could find it easier to relate to. Because whatever you're going through, there's probably someone going through the same thing." 
Maintaining the tradition of music was a big factor in the creation of Fawsm. Ferguson takes inspiration from artists such as Kanye West, Drake, Logic, Kendrick Lamar, and J. Cole, to name a few. Ferguson hopes to add to musical culture through producing mixtapes. 
"I wanted to bring [mixtapes] back because we're losing the art of the mixtape [and] the album, I would say. We're losing it," Ferguson said. "It's not about art anymore."
In the next five years, Ferguson hopes to continue his growth as an artist and eventually release an entire album. His mixtape was a chance to release everything he has currently done in the hopes of improving his skills for the future. 
"I have a real passion for [producing music]. If it's recording music or if it's just playing it, whatever. I would say the passion has always been there […]" Ferguson said. "It was important to continue that passion and follow it and feel [it] in a certain way rather than just letting it die out eventually. That's a big thing for me."