Basketball teams continue to travel amidst Omicron outbreak
During the 2018-2019 season, the Mater Dei boys' and girls' varsity basketball teams traveled to Illinois, Arizona, Florida, Colorado, Nevada, New York, and Washington. However, during the 2020-2021 basketball season, both teams tried to refrain from traveling  due to the continued spread of COVID-19. The teams stayed primarily in Southern California as they moved through their season and many games had to be cancelled due to safety concerns. 
As of January 2022, the Mater Dei varsity basketball teams have begun their traveling once again. However, as the COVID-19 pandemic continues and new variants such as Omicron emerge, the challenge for the school basketball program has become how to keep their players and staff safe while also giving them their first full season in almost two years. 
Coach Kevin Kiernan, head coach of the Mater Dei girls' basketball team, explains how certain protocols continue to be in place in order to make sure that his team and other teams  that utilize the athletic center are safe and healthy. 
"Indoor sports are testing at Mater Dei every week to stay safe," Kiernan said. "We follow the health and safety protocols our training staff and school nurse have given us." 
Though the team has been able to travel more this year than they have since the outbreaks began, some plans have been cancelled due to the recent upsurge of Omicron cases. The girls' basketball team had planned to go to Stockton, California in mid-January, but cancelled the trip due to the surge, citing the need to prioritize their players' safety as well as their commitment to prioritize league games. Kiernan hopes that the team can travel more after the number of cases has declined. The girls' basketball team is not planning any out-of-state or overnight trips at this time. 
Camden Joko, a senior guard on Mater Dei's girls' basketball team, explains how protocols continue to remain in place when traveling out of state in order to keep her and her teammates safe.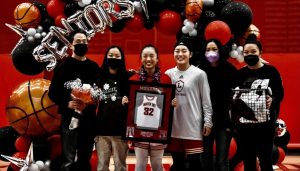 When explaining how different traveling is this year compared to her sophomore year, Joko went on to describe how crucial team traveling is for bonding on the court. Joko acknowledges the importance of sharing experiences and spending time with teammates off the court and its impact on the group's teamwork and communication.
"I think it really brings us closer together by allowing us to bond with people we haven't had the chance to before. Just having a shared experience of traveling together and being with each other all the time […] helped our chemistry on the court," Joko said. 
Similarly, the boys basketball team has also begun to travel again, visiting places like Chicago, Florida, and Las Vegas. Senior Kaden Minter, a guard on the Mater Dei boys' basketball team, has been involved with the basketball program since his freshman year and was able to travel with the program several times before the outbreak of COVID.
"[Before COVID] we traveled a lot," Minter said. "I've traveled with the team since freshman year. [I] got to go to Chicago before and went to New York with the team. It's definitely a lot different during COVID."
Since being able to travel again, there have been many restrictions placed on players and spectators in order to maintain safety. Minter explains  that there are a lot more limitations on what the team can and cannot do. However, the coaches and team managers are still able to create memorable experiences for their players. 
"There's less stuff that we can do, but it's still really fun," Minter said. "Our coaches helped plan it so we can go see sites in the city and not just play, but it's a really great experience even during COVID." 
Minter understands the importance of traveling and the impact it has on a player's personal growth. Minter remarks on how exposure to other players and environments around the nation has helped his team grow. 
"It's really fun to go and travel because it lets us play against different players from other states. The crowds are sometimes different. That's kind of what some of these tournaments that we go to provide and just a really great experience," Minter said.
In January, the boys basketball team traveled to New York to play in a tournament. The trip was controversial among the members of the basketball team, as many felt it would be too risky to embark on a cross country trip given the recent upsurge in omicron cases. However, the coaches and team administrators made sure to follow all the necessary protocols to maintain safety among the players. 
"We're getting tested [frequently]," Minter said. "There were weeks where we had to get tested—everyone.  And then now, it's back just to the unvaccinated [being tested weekly], but it fluctuates as COVID fluctuates."
Even though traveling looks different, Minter is happy to take part in the traveling experience for his final year at the school. 
"[Traveling] really builds a bond between us and it helps us strengthen our relationship on and off the court," Minter said. "We still practice like normal, [but we are] taking the precautions […] to stay safe and keep our season rolling."