Gina Genova: Behind the Scenes
Students watch Mater Dei's morning show each day, seeing many familiar faces on screen. What many don't see is the off-camera work that those familiar faces put in.
Gina Genova has been a part of Monarch Television for all four of her years at Mater Dei. She joined the class Studio Production her freshman year after reading the course description on the school website. Throughout her high school career, Genova has dedicated her time and energy to the program. 
"In the summer [before my freshman year] I knew I wanted to do something with film or acting," Genova said. "I read the [course] description for Studio Production 1 [and it] had what I was looking for. I want to be a news anchor or a producer after college, so I knew when I clicked the button for the elective it was the best choice."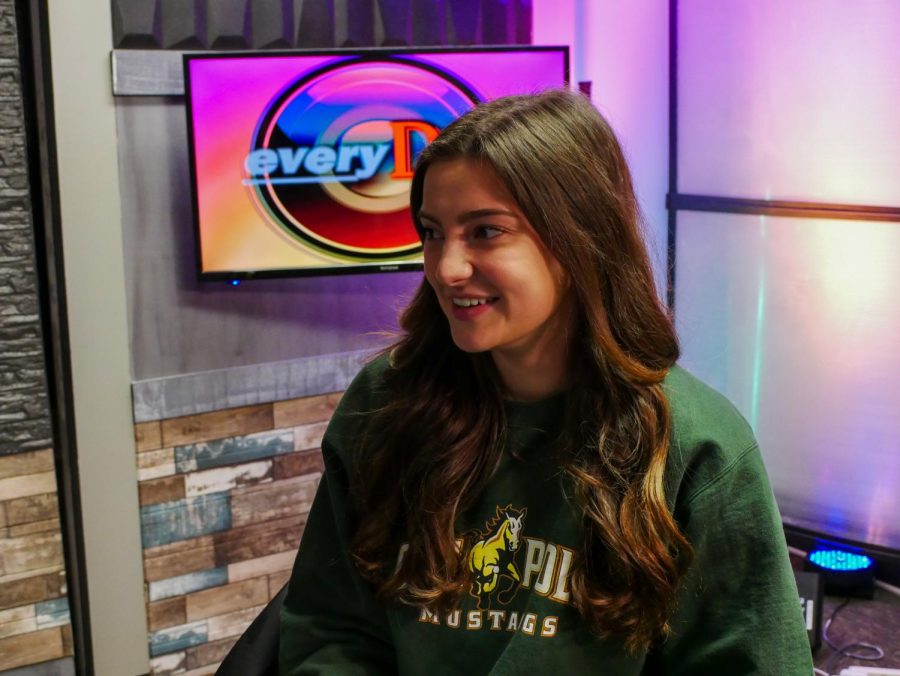 That decision sent Genova on the path for the rest of her high school career. She has continued taking the class each year and has advanced in the program to an Executive Producer. 
"Since my junior year I've been an Executive Producer [for the show], so I help run the show at a productive pace," Genova said. "I also handle the anchors and coach them during pre-production to help them go over their stories."
Every Dei, the official name for the show, is written, filmed, and produced by students daily during designated class time. Each student holds a role, such as anchor or camera operator. Separate from filming the show, the class also focuses on writing news stories and learning various camera techniques and editing skills. 
"My favorite part of the class is just the feeling of having an atmosphere I can lean in," Genova said. "Everyone is so sweet and actually genuine to each other and it's so refreshing to [be in that environment]." 
Studio Production and Acting for Television, the two classes that make up Monarch Television, are not taught in a conventional classroom setting. Much of the work is hands-on and the only assignments given are reflection-based. The class is both technical and an outlet for creativity in the broadcast television space. 
"The show has become far more student-centric in content and production," Director of Film and Media Arts, Andrew Roberts said. "Moving away from just being an outlet for the announcements, students are focused on telling stories, reporting, and content creation."
The content that airs on Every Dei ranges from traditional news stories to student-created segments on various topics. Starting her junior year, Genova picked up the mantle for "Meet the Monarchs," which is a fan-favorite segment. In the segment, Genova interviews students and asks them various questions, such as random trivia or holiday-related topics. 
"People's reactions to Every Dei have changed over the years," Genova said. "[I've] progressively gotten more compliments from [students and teachers] on all the segments we do."
Reactions to the show are not the only thing that has changed during Genova's time on Every Dei. When she first joined the class, Genova was just starting to learn the ropes. With the help of her peers and Roberts she has been able to grow as a student and person. 
"Gina is a rockstar," Roberts said. "She was always talented and competent, but she has grown into her leadership role in such an amazing way. I have watched her hone in on her talent on camera, always working diligently to better herself and, within the last two years, find her place as a student director."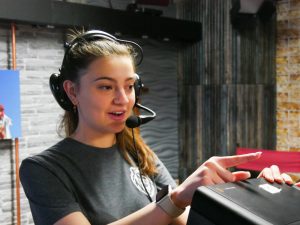 Since Monarch Television is an elective course, the class is composed of students from every grade level, meaning Genova was able to learn from students who have been taking the class for years and she now has the ability to mentor others. 
"I [have] received so much advice that I have […] applied to my own life," Genova said. "Now [that] I'm a senior, I can [pass that] advice [on] to the underclassmen that need it as well."
Just as the saying "the show must go on" goes, there are many moments when students are filming the show and mistakes get made. Although Genova has been able to reduce these mishaps, she has earned a reputation for mispronouncing words on air. 
"Gina was anchoring and struggling to properly pronounce [an administrator's] last name," Roberts said. "She wrote it in her notes, worked on it before we filmed, but still made mistakes. We laughed because it was like a skit. Gina and I said 'Bergeron' over and over to get the pronunciation correct only to roll [the camera] and have her trip up. But, it goes to show how hard she works because she kept at it and made sure it was right."
Genova has proven that no matter how many times she may mispronounce a word, she will always work hard to get it right. Filming Every Dei often requires multiple takes in order to get a perfect run, but Genova is always willing to keep refilming until everything sounds right.
"Perseverance is a word I would use to describe Gina," Roberts said. "She works extremely hard to make sure that her work reflects the best of her, and she never settles for 'good enough.' I have watched her recite children's books to better her cadence as well as work through difficult words or phrases ensuring her on-camera performance was top notch."
Whether on or off-camera, Genova has become a crucial member of the Monarch Television team. Many students in the program look to her as an example of leadership and creativity, and as much as the program benefits from Genova, she has benefited from it. 
"This show has changed me from a scared freshman to a confident senior," Genova said. "Looking back at who I used to be and who I am now, it's [all thanks to Every Dei]."