Recent earthquakes remind community of natural disaster preparation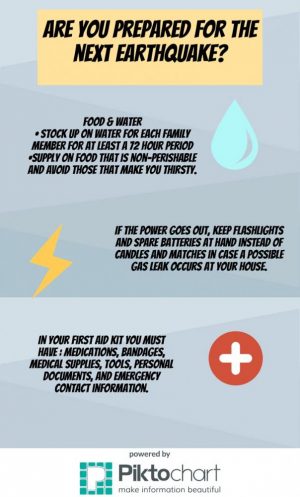 Chaos and destruction resulting from recent natural disasters has been headlining the news and trending on social media for several weeks. Just this past month, two major earthquakes hit Mexico: a magnitude 7.1 earthquake Sept. 19 that killed 200 people and, just a few weeks before on Sept. 3, a magnitude 8.1 earthquake, the most powerful earthquake to hit Mexico this century.
With such disasters happening so close to home, disaster preparation is at top of mind for many. As a result, the school started preparing students and facilities early this year for possible earthquakes on campus. On Sept. 14, the school organized an earthquake drill to help students and faculty practice the steps and precautions they would need to take during an actual earthquake.
"Students should be familiar with the evacuation routes that are posted in all classrooms," Dean Miguel Gutierrez said.
Administrators also emphasized that remaining calm and staying focused on procedures, like the standard duck and cover method, is essential.
"I would hope that [students] all remember what we did in the drill … and that everyone was as calm as they could be," Director of Alumni Giving and Relations Kathleen Kelly said. "My job on the faculty team [is] to make sure that all the kids were where they needed to be and safe and try to get them either home out the door themselves driving or reconnected with their parents."
Students and their families are also trying to get prepared at home too, including having food and supplies ready in case an earthquake does occur. This is an ideal model for students to follow because an escape plan and supplies are vital if disaster strikes. Freshman Emily Evans and her family, for example, are already prepared for an earthquake if one does happen.
"We have a little bin in our shed, and then if there's an earthquake I know where to stand, which is under a ledge and then once it's over, I go outside and if my parents aren't there I go to my neighbor's house," Evans said.
On the other hand, sophomore Juan Lopez said that he's not prepared for an earthquake and doesn't have a plan in case one does occur.
"There's nothing really you can do to prepare for an earthquake; they're unpredictable," Lopez said. "The best thing you can do during an earthquake is just get under something sturdy enough or just stay clear of everything that's falling. Just like stay in an open area. I haven't prepared myself for any natural disaster – I just improvise in case it does happen."
While the school community shouldn't worry about the unknown, staying safe and being overly prepared is better than having no preparations at all.
"Be prepared because it could happen at any moment," Evans said. "Know where everything is in your house, go to someone that you trust, so whether that's a neighbor or someone on your street – if the phones are down the phone lines are down. Just have a plan."