Representation in film and television continues to improve
During one of my YouTube video binges, I stumbled upon scenes from the 2007 movie, Hairspray. This musical film, set in the 1960s, tackles the subject of race in mainstream media following the protagonist Tracy Turnblad as she and her African-American friends struggle to have more representation on "The Corny Collins Show." It is no doubt that these issues from almost 60 years still remain prevalent today.
In 2015, after the 87th Academy Awards nominations were announced, the Academy received backlash from viewers for the lack of colored nominees.
"Apparently to @TheAcademy, in 2015, only the stories (some made up) of white people are relevant. #OscarsSoWhite," @NerdyWonka tweeted on Jan. 15, 2015.
This outrage sparked my interest in the long-debated topic about the lack of diversity in Hollywood.
One thing to point out is that this issue is nothing new. Lack of representation has been a problem in entertainment as early as the 19th century with minstrel singing, but obviously the industry has improved immensely since then.
For instance, the 2016 film Moonlight made history at the 89th Academy Awards as the first film with an all African-American cast to win the Best Picture award.
"[It's] very humbling to be up here," said Moonlight Producer Adele Romanski. "And I hope even more than that, that it's inspiring to people — little black boys and brown girls and other folks watching at home who feel marginalized and who take some inspiration from seeing this beautiful group of artists."
Representation in film and television is so important because it gives minorities a voice and a chance to share their stories in such a prominent industry in society.
For example, the Netflix original comedy series Master of None (2015) features an Indian main character, played by Aziz Ansari, struggling in the dating scene. ABC's comedy television show, Fresh Off the Boat (2015), features a primarily Asian cast portraying a story about a Taiwanese family embracing the "American Dream" in Orlando, Florida.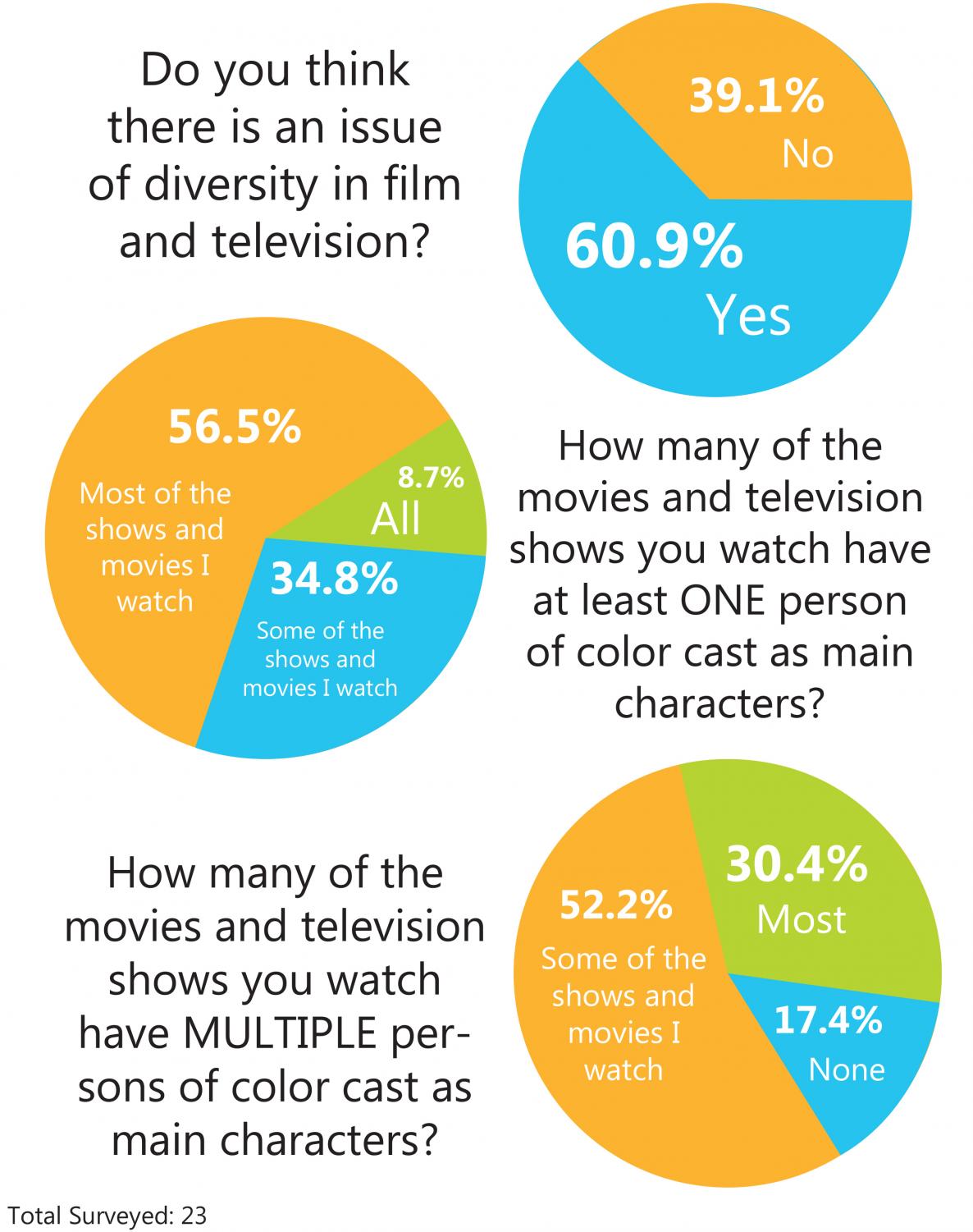 Stories such as the ones told in these television shows portray the struggles of all people while highlighting the diverse cultures that make up our country. In Master of None, the main character recalls his parents life in India before they immigrated to the United States and constantly reminds them that they are "not in India anymore." This satire on immigrant children provides an insight on the struggle of foreign families adaptation to a new country. In addition, the phrase Fresh Off the Boat is ironically used in the television show title to mock a derogatory phrase used against Asian immigrants in America.
Children's movies with main characters of color are equally as important as television shows and films with minority adult actors. I remember as a young child, I rarely ever saw an Asian main character that wasn't used as the stereotypical smart and studious character. I assumed that people that looked like me didn't belong in entertainment and because of that, I had a skewed view on the way Asians were 'supposed' to act. By having POC characters, children will develop a better understanding of the diversity in the world around them and gain the confidence in knowing that they are represented in popular culture.
One of my favorite new examples of representation in children's media is Disney's newest animated film, Coco, highlighting Mexican culture and Día de Los Muertos. Released on Nov. 22, 2017, Coco broke the politically charged stereotypes of Mexican people that were reignited by President Donald Trump's inauguration 11 months before.
It is clear that Disney, one of the biggest corporations in the world, is making moves to incorporate more cultures into their films. On Feb. 16, Marvel Cinematic Studios released their newest superhero movie, Black Panther. According to vox.com, the film has grossed a total of $676 million, surpassing the box office sales of Iron Man, Thor, and Captain America combined.
"Watching this and seeing the box office success feels like a turning point," said YouTuber Natan Zed in his Black Panther review. "This felt like the beginning of something… The culture is usually seen as weird and in this movie it's presented how it is and more than that, beautiful."
While there has been advancement in the industry, there are still some shortcomings that setback this improvement.
Ghost in the Shell (2017) starring Scarlett Johansson, was based off of the popular anime released in 1996. Fans of the anime movie were outraged to find out that a white woman was to play a Japanese character.
"Ghost in the Shell was one of the most important movies to my brother and me growing up," @jfwong tweeted on April 14, 2016. "It really does hurt to see it get this treatment."
While I believe that film and television will continue to improve its current state of race representation, it will continue to have its setbacks. However, as consumers, we have the power to control what we want to see and by continuing this conversation, equal representation of all races will some day become a reality.