Surf team shreds out of the season with win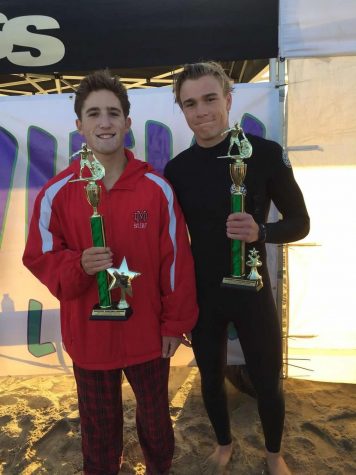 The surf team was recently recognized for their efforts at the Seaview Surfing League, a post-season competition that took place at the Southside of the Huntington Beach Pier on Jan. 11. Senior Braden Hotra took first place and senior John Bruder, surf team President, took second in the Boy's ShortBoard competition while sophomore Henri deBeauvieres placed first and sophomore Evan Eschenburg placed fourth in Boy's Bodyboard. Freshman and Co-Team Captain Cora Nordheim also placed first in Girl's Shortboard and placed second in Girl's Longboard.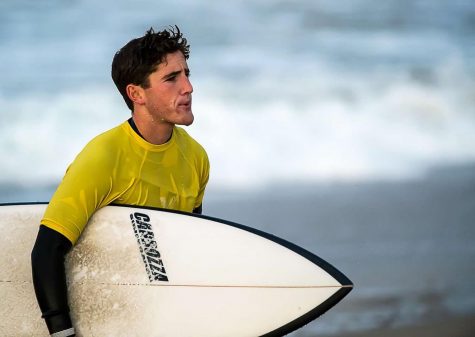 "Our season went pretty well this year," senior and the surf team's Vice President Braden Hotra said. "…we had new good surfers and we got a couple wins – we took out three divisions in the league championships."
The Seaview Surfing League takes place after season where individuals can participate in competitions with different categories. The Mater Dei Surf Team sent their top players to take part in the Seaview Surfing League to represent their school.
Senior and co-Team Captain Nick Cirrito said that he thinks it was the best season they have probably had in a few years.
"We did really good in the championship and I'm proud of our team."
Due to a coach leaving in 2014, the Surf Team was no longer active. However, when Braden Hotra was a freshman, he was determined to be involved in the club. Inspired by his older brother, alumnus Keegan Hotra (class of 2015), who was on the team while he was at Mater Dei, Braden Hotra and surf team Bruder decided to start up the club team again. Braden Hotra joined up with Bruder because Bruder had been surfing for a very long time and did competitions before high school.
As a result, the team started back up in May 2015 and the next season started the following school semester. This is the first year where students are able to enroll in surfing as a class. The Surf Team practices are held at Huntington Beach at the Magnolia Tower 7 in the mornings of Block 1. The team's contest season takes place in October through December.
Cirrito recommends that students join regardless of background.
"It's a bunch of fun," he said. "We get to come out and surf in the morning before school and everyone is really nice and we'll help you surf."
Students can find more information on the surf team's webpage.
"You don't have to look up to the best surfers [out] there," Bruder said. "Just try your best and you'll get better every single time."