February Monarchs of the Months: Jagari Jennings and Hanna Schulte
Seniors Jagari "Jag" Jennings and Hanna Schulte were selected as the February Monarchs of the Month for their Monarch character and accomplishments.
Jennings fosters a friendly, supportive environment one smile at a time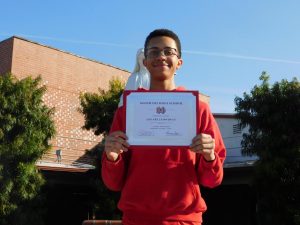 On campus, Jennings challenges himself in academics by taking ten AP classes while being involved in various extracurricular activities at Mater Dei. For the rest of his senior year, he intends to continue working hard and enjoy the remainder of his time at Mater Dei.
"[Jennings is an] outstanding and highly motivated student," principal Frances Clare said.
Jennings said that he likes that Mater Dei offers him a variety of opportunities such as the senior musical, online classes, and the ability to "grow in your faith and be with other kids who are dedicated and nice."
"[Mater Dei] just provides you a lot of opportunities to really get out into the real world and experience new things," he said.
Being involved in ASB and Campus Ministry, Jennings said he has had the opportunity to connect with students of all grade levels and help people in need.
"It's just really nice to help people and meet new people outside of school that don't have the things that we're fortunate enough to have," Jennings said.
In addition to being involved in activities on campus, Jennings wants to show leadership through treating others with kindness. To Jennings, Monarch character is displayed through "being kind, compassionate, and charitable in the community."
"I always try to smile at people in the hallways even if I don't know them and wave and just be nice to people because you never know what someone else is going through, so you always just want to be nice to everyone and be compassionate," he said.
Schulte, president of the 'happiest club on campus,' works to create unity in student body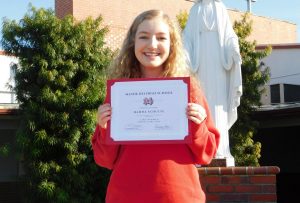 To Schulte, having Monarch character means to be "the best person and the best student you can be."
"[Schulte is an] outstanding student," said principal Clare. "[She is] highly motivated in the arts and Campus Ministry."
Schulte, the president of the Disney Club, as we ll as an ASB commissioner and choir member, said she encourages students to get involved on campus.
"I'm the happiest when I'm involved in doing things that I love, and there's such unique personal experiences and again, you can't find that anywhere else other than Mater Dei," Schulte said.
With Disney Club, Schulte wants to have fun and "leave the stresses of high school behind," but her biggest goal for the Disney Club is to create unity among students.
"Unity became really important to me because I wanted to feel like a part of the community and part of the Mater Dei family because it's so vibrant and full of life and love," Schulte said.
After she graduates, Schulte hopes to be remembered for the positive impact she made on campus. Along with creating unity among students, Schulte encourages them to treat each other with kindness.
"If people weren't kind, there would be so much division and so much hatred in the world, but in a smaller scale on campus, and I think with 2,200 kids, you really need kindness," Schulte said.