Baseball team welcomes new coach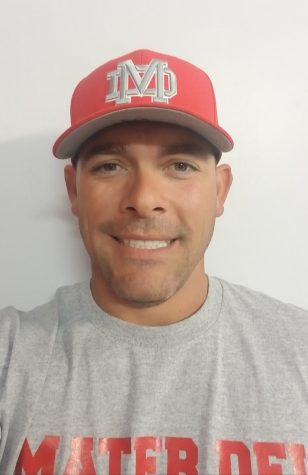 Richard Mercado, class of 2001, has been appointed head coach of the varsity baseball team.
Former coach Burt Call had been coaching at Mater Dei for 19 years, but his contract was not renewed for the current school year, according to the OC Register. With this new change, Mercado hopes to lead the Monarchs to victory after having a difficult season last year, ending with a 10-19 record.
"I think hiring the new coach is a wonderful opportunity for the team to rebuild and bond with each other and learn some new things that can helps us get back to CIF," relief pitcher senior Anthony Chiaramonte said.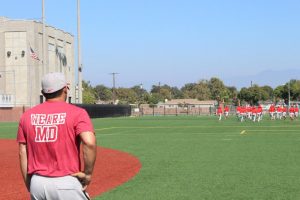 Having been a part of last year's team, Chiaramonte said that having Mercado motivates the team to create a strong and united clubhouse.
"My first goal is to get these guys to bond as brothers and [try] to bring back that winning tradition," Mercado said. "[This] is always on the forefront of my mind."
Previously, Mercado was the baseball coach at Saddleback Valley Christian School. Before that, he played professionally for nine years with the Arizona Wildcats, where he was a two-time all-country honoree and named the Serra League MVP. He also played in college at the University of Arizona. While he was there, he was named to the Mid-Summer All-Star Team as the starting catcher and honored with the Daniel J. Silva Sportsmanship Award. Mercado was also honored several times during his career at Mater Dei: He was named baseball team captain twice and broke the record for having the most hits in the season. As a Monarch, he was a three-position player: catching, pitching and outfield.
"I'm really excited that we have a coach that has experience playing in the professionals," senior pitcher Michael (MJ) Gabaldon said. "I think he can help the guys who have a dream of making it [in the MLB]."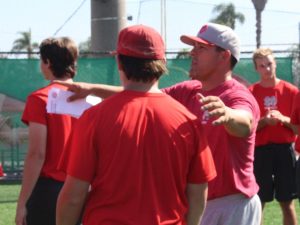 Mercado hopes to "get these guys to bond as brothers and try to bring back that winning tradition." Even though they may have had a rough last season, Mercado hopes that if all his players work hard enough they will be able to get into a winning mentality not only as a team but as a family.
"I hope and … think we have what it takes to make it a good one," Gabaldon said.