Increase uses of technology sparks differing opinions on adverse effects
The average Mater Dei student spends about 4-8 full hours on a screen whether it's a tablet, cell phone or computer. This constant use of technology leads to questions about possible negative effects that using technology so many hours a day can have on student health, more specifically, eye health and also on whether technology provides a suitable substitution for the traditional pen and paper.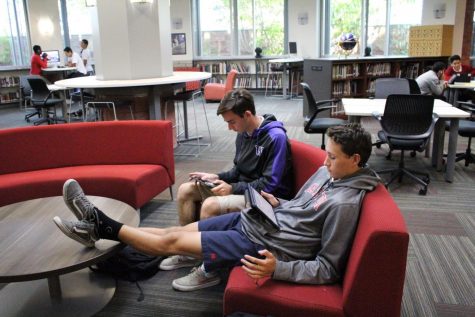 Even though there is speculation regarding technology's negative health effects, Dr. Gregg Feinerman, a Newport Beach optometrist said, "…I don't think it will have any adverse effect on your eyes. There is no proven evidence that it really does…"
An upcoming trend for students that attend technology-based schools are blue light glasses. Blue light glasses are described to be glasses that remediate "digital eye strain; [they are] computer glasses that block the blue light [which may] increase comfort," according to allaboutvision.com .
The website describes blue light as an electromagnetic radiation with wavelengths between 400-495 nm (nanometers) that is emitted from computer, tablet and mobile device screens. A person's naked eye is not effective at blocking out the blue light and that's where the glasses come into play. The glasses have mixed reviews: Some studies show the glasses avoid eye strain, and others say the glasses have negative effects.
"Honestly, I like [the glasses] a lot," said sophomore Kelly Nguyen, who has been wearing blue light glasses for a year and wears them about 4 hours a day. "I feel like they reduce the eye strain I usually got before I wore them." 
Although there are many different opinions on the effects of glasses, the product is on the rise considering the overwhelming amount of technology that the average person consumes per day.
Despite its potential negative effects, technology, for the most part, has been received positively by both the Mater Dei student body and staff and will most likely continue to see growth and development in the future. For example, the school has been named an Apple Distinguished School since 2012 and this appellation was renewed in 2017, according to the Mater Dei website.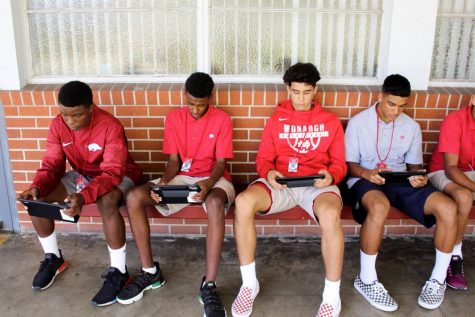 "Besides the cost savings, the iPad allows students access to information 24/7," Geri Campeau Assistant Principal of Academics and Technology said in an email. "Because of this, teaching practices are changing and today's students need a different set of skills than prior generations. The iPad allows students to learn how to find, evaluate and apply information while taking ownership of their own learning."
However there isn't a lack of differing opinions.
"I enjoy learning on traditional paper more… it feels easier on the eyes. Spending a lot of time staring at the glare gives me fatigue," sophomore Allie Thai said. "My eyes get that sizzling feeling but I guess it could be in my head," she added jokingly.
This technology has since been integrated into all facets of student learning both in school and at home.
"I really like it," Nguyen said. "To me it's better than the alternative which would be a really heavy backpack. At my old school we had regular pen and paper and personally I like typing better."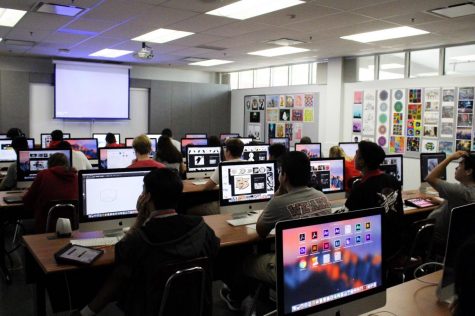 Mater Dei's technology program will continue to develop as they continue to incorporate technology into the learning environment. Conflicting opinions regarding the use of technology in schools can be confusing, but until there is conclusive evidence to the contrary technology seems to have little negative health effects and can be used as a tool to prepare students for the future.
"Overall, I think we're very fortunate to be in the position we are, to have technology so accessible to us," Thai said. "Tech is power." 
Leave a Comment
Donate to The Scarlet Scroll
Your donation will support the Student Publications Department at Mater Dei High School. Your contribution will allow us to keep our equipment up to date and cover our annual website hosting costs.